The OC Marathon has a strict policy on packet pickup for their races. You must attend the expo, held the two days prior to the event. And their times are amongst the worst possible for traffic — 4pm to 8pm on Friday and 10am to 5pm on Saturday.

I went Friday and it took me four hours round trip. I suspect there WILL be race-day pickup but I try and follow the rules. So I wound up paying $10 to park on Friday and pre-purchased my mandatory parking pass for Sunday for another $10.

It all reminds me of one of the most iconic moments from a seminal turn of the millennia television program. On the eponymously named teen sudser this was the introduction Chino ex-pat Ryan got to "The O.C."
Now, this contains one of the few curse words that I do cringe at hearing.  I can throw around the euphemistically known F-bomb like a wannabe Samuel L. Jackson (because in truth don't we ALL wish we were a little more like Sam Jackson?).  But unless we're very specifically referring to a female dog, I really cringe at the use of the b-word.  I just find it… offensive.  My stars and garters, honest to liver, ya know?
As a result, I prefer to think of this series of photos as "Welcome to the OC, suckers!"  Because given the nickel and diming of this marathon expo, I think it's fair to say there's more than one of us born every minute.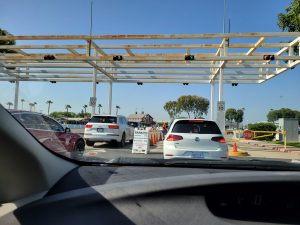 $10?!  Highway… er, parking lot robbery!
***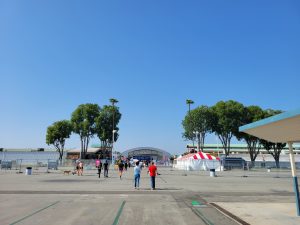 I swear they could have held Woodstock '99 here — it has that reflective, oppressive heat thing going for it.
***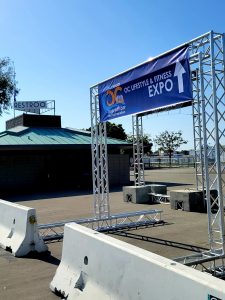 Rest Roos?  They have resting kangaroos here?  I wanna see a resting kangaroo!  Oh… it's just a poorly maintained restroom.  Well that's just… rude.
***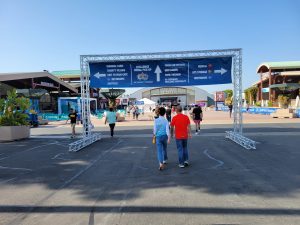 Sorry, folks… expo's closed on Sunday.  And yet I suspect there will be packet pickup despite what they are telling us.  My biscuits are burning! 
***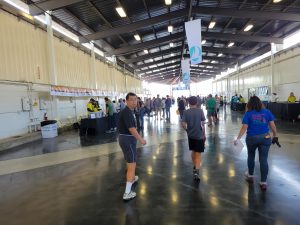 This guy is totally giving me the stink eye.  Don't blame me, dude… I'm just as annoyed as you are about the traffic.
***
Come out to the coast, run a few miles… 
***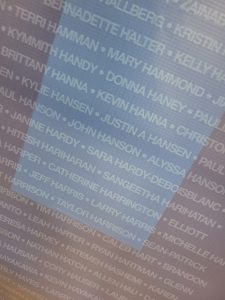 Name that runner.
***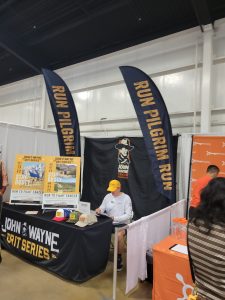 That's a pretty good slogan.  Catchy.
***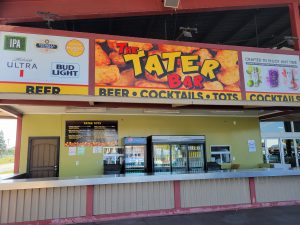 This might be the greatest bar in the world.  Except it's not open.  No taters, no tots.  Sigh.  Story of my life.
***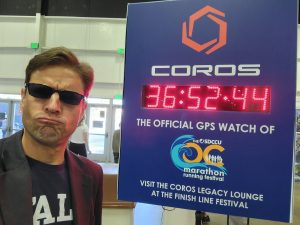 I jokingly assumed this is the projected drive time to get back to my place.  In truth, I was only a little faster getting home.