I suppose if you say it enough times, it's bound to be true eventually… that seems to be the red state philosophy of long time Republican bulwark Orange County, CA. [Full disclosure — the OC is much more purple these days, having gone for Hilary Clinton in 2016 and Biden in 2020… but the local "GOP" remains strong].

At the OC Marathon today, there were two big lies being peddled repeatedly along the course:

1) "This is the last hill"
and
2) "You're almost there"

Perhaps the spectators were just overly enthusiastic and under-informed about the course layout. But I believed them about the hill thing the first time I heard it… doubted them the second time… and by the SEVENTH hill I was pretty sure somebody should have phoned the fire department because all of these folks' pants were on fire.
But sure enough, we did finally crest a last hill.  Where that was along the course, who can say?  I suppose it depends on what your definition of "was" is [Full disclose – equal time diss on political parties].

As for the "you're almost there" uttered throughout the course… maybe space and time have different rules and properties in the OC. Because when the first spectator to tell me I was almost there was standing beside the mile TEN marker. Uh… I don't know what makes this fella think SIXTEEN POINT TWO MORE MILES is "almost there." By far the worst but not the only physics denier. I heard I was almost there from police officers, small children, and even a person holding their puppy. I have to admit, I didn't want to let a sleeping dog lie so I am making an assumption that the dog would've be honest.

Let me be blunt — we're only almost there when we can see the finish line… and even then, if you cruelly have us PASS the finish line with a sign like this… well, that's not almost there either.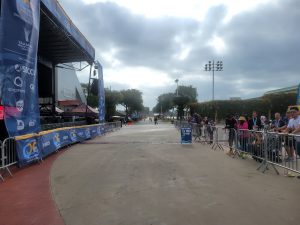 ***
The day that was…
An early morning bus ride to the start line.  This bus had seat belts that dug into my back… and the leg room of a Spirit airplane.
***
Awaiting the start at 5:30 AM.  I had been assigned to Corral 2… but all the pacers near me were rocking 4:05, 4:15, 4:30 placards.  There wasn't a strict corral protocol… so I scooched up a bit to be closer to the sub 4 times.
***
The highlights of the course were certainly in the opening miles along the coastline and marina.
***
From there it was a lot of bike paths and neighborhoods…
I did get to high-five a dinosaur though…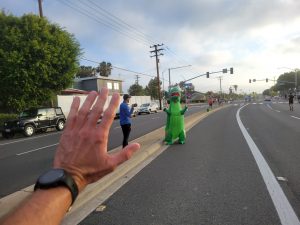 ***
Here's a photo of me truly being "almost there."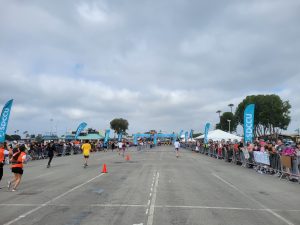 ***
And then I was done.  Not a lot of masks but I tried to be socially responsible and wear my bandana amongst the thronging masses… and while I have yet to open my post-race food, I'm also a little scared to.  That clown on the wrapper seems to be the stuff of nightmares.
***
Good bye to the OC, Kevin!  On to the next….