I resisted spending $90 at the expo or $100 after the race for the official race photographers images of me along the course.

Good thing too as most of them were terrible this year. Might be that I'm looking worse for wear but I choose to blame the artists and their tools and not me — that's how that saying goes, right?

I did cull a few of them from the preview images that I thought worth throwing up here.

Oh, man, that sounds terrible. I meant to say, I found some worth up-chucking here…
In the one below, see if you can Where's Waldo-style find me as I struggle not-so-mightily…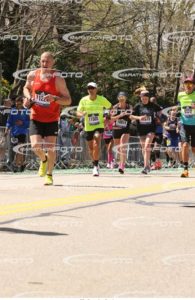 I kinda love this one — because of the angle, the lady running behind Orange Shirt Man is almost completely obscured… making OSM look like he has four arms!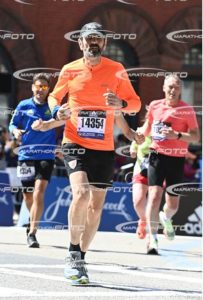 Looking a little worse but rallying for the finish…
And this one isn't me, per se… I mean, it is… I'm off to the side obviously… but I liked it as it showed I tried to mask up after the finish, even if the neck gaiter thing is not ideal.  But I tried… and that's kinda what the 126th Boston was all about for me — trying!