I thought I was ready.
I thought wrong… repeatedly.

When I first made my reservations, I thought there wasn't a chance the expo would be open on Easter Sunday so flew in Saturday morning to make sureI could get my bib. Turns out the Expo was one of the few things open on Easter Sunday…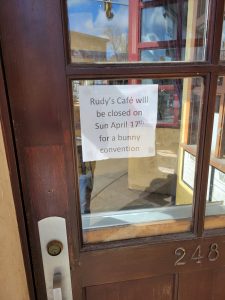 So I probably spent an extra day in Boston for no reason. Well, there were reasons, but coming back to that town after all these years was a surreal experience. I tried to just ignore some of the elephants in the room… what's a pack of elephants called?
A pack of Derms?
(HA! HA! HA!)
With the recent uptick in Covid cases in the Northeast, I would have hoped folks might be a bit more willing to deal with an ounce of prevention to avoid a pound of pain.  Nobody likes wearing masks but we do it to try and help those that are immunocompromised or, hell, just anybody in the hopes of preventing a highly transmissible variant of a disease.  We all may be done with the pandemic but it's not done with us.  I'm from Florida so I know the weird militant politicalization of right wing red meat hate mongering and bullying… so maybe I shouldn't have been so surprised by the lackadaisical mask wearing.  By the end of the trip, an activist judge appointed by Trump struck down the mask mandate on mass transit based not on science but on politics… leading to even more confusion and "Don't Mask, Don't Tell" hardliners.  Me?  I wear a mask indoors and when I'm around a lot of people just to try and err on the side of caution.  I don't love it, but it's what I do to try and be a decent member of society.  In Boston I noticed more people wearing masks OUTDOORS than inside buildings which felt counter intuitive and counter productive.  But what do I know? 
As for the run, I put a lot of faith and hope and pixie dust (aka Aleve) in the steroid shot to my foot…I don't know if there were several neuromas and we only got one of them with the shot or if psychologically I had expected everything to run smoothly thereafter and was bummed it didn't… but after about 8 miles of running my left foot hurt perhaps more than ever before on a run. I got a few extra miles in pain free but thereafter it was non-stop sensations of cement knots on my foot and sharp needles sticking into my toes. I actually gave serious consideration to dropping out, something I rarely if ever do on a run. Boston pride and true blue stupid grit got me through it… and a fair bit of walking.

The good news is that I felt fine after finishing and walking to the subway (which I was lectured by a Bostonian race official they don't call the subway or metro in Beantown — it's the T. I said at least I had my Charlie Card and he fist bumped me). So less running, more walking for the next few days while I reach out to my doctor to see what else we can do.

So that's the quick medical recap… who cares about that stuff, am I right? Let's go to the photos for the real reflections on the race weekend….