The hotel may not be the Ritz, and I may be a bit ashamed of bringing Mom here given its weirdly chaotic and not-surprisingly tiny accommodations, but it sure was convenient for getting to the start line.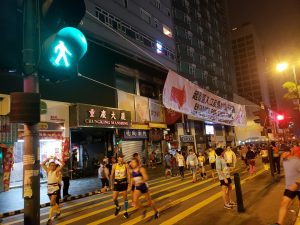 Wong Kar-wai shot some of Chungking Express (1994) here, a movie I finally got around to seeing courtesy of the Criterion Channel. Not yet a subscriber to the Criterion Channel? If you like films, not just movies but FILMS, I highly recommend it.
The weather was overcast this AM and while it made for decent running weather, it made sightseeing a bit… well… obscured. I'm glad I took Mom to the Peak yesterday. The 87% humidity at the 6:10 AM start of the race though wasn't good for anybody… except the guy who set a new course record… and who has two thumbs and is NOT that guy? This guy: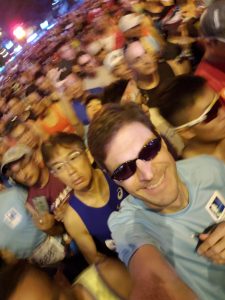 I should also say that amidst the billowing cloud cover there was a pummeling, forward-momentum negating wind that blew any time we were above ground. There were many bridges and tunnels on the course, no doubt affording a massive headache for locals looking to get from point A to point B and not run a marathon to do so. I found myself thinking of this Andy Lau movie about a terrorist plot to blow up a Hong Kong tunnel and his efforts to save the day. It's far from the best Andy Lau actioner but the premise is really intriguing — how does an island city deal with having key traffic arteries blocked? The answer in the movie is chaos; the answer during the marathon? Equally chaotic.
More so than I remember from my two prior trips to HK, there are a LOT of people here. Walking the sidewalks is akin to a game of pedestrian bumper cars, shoving and elbowing, all trying to jostle for space and movement. And more than a few times I was part and parcel of what happens when an unstoppable force meets an immovable object — if I was one part of that equation, I caved. Which I guess means I'm neither unstoppable, nor immovable.
But given the streets during normal life are like that, the marathon start line was unsurprisingly a crowded melee of carnage. Somehow or other I did get to start… and then found myself ducking and weaving and trying to avoid snarls and inadvertent trips of the leg as folks sought to find their natural rhythm. This I'm more used to than on sidewalks during a stroll through a city, so I handled it a bit better. Still, it's a rough way to move.
What folllows are just a bunch of photos without much commentary. What I like to call a JABOPWOMC post.
The subway was pretty crowded on the way back too…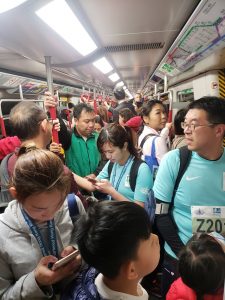 ***
For a post-run recovery meal, I thought Dim Sum was the way to go.  Mom wanted to go back to Yum Cha as there were a bunch of novelty dishes we didn't try… and in the spirit of Dim Sum, my eyes were bigger than my stomach and we ordered way too much.  But there are starving kids in America so I really couldn't let it go to waste… I can't believe I ate the whole thing.  My belly and the scale may regret it, but I do not.
Too.  Much.  Food.  But… oh so good.  And now… a food coma.  Perhaps THAT is the key to recovery.