The St Mary's Orphanage was pitched to us as a Belgian charity place Marie Frances has supported throughout the years.  So when she said she was going to visit and donate some items brought by Ed and Eileen, a bunch of us jumped at the chance to go with her.
But first we had to detour to the police station to see about 10 officers to police for the marathon route on Sunday.  Marie I knows the chief, Koka, and we met with him and one of his detective police, a guy by the name of George.  Two of our 13 member party are law enforcement in the US, one a 32-year now retired first detective, the other a 47 year sheriff.  That's John and Gene respectively with Marie, Chief Koka and Moshi Mayor Raymond.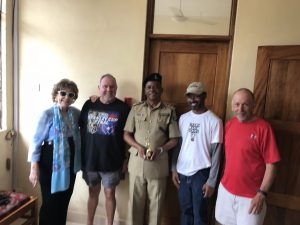 At St Mary's we got a tour of the place from a Sister of the Sacred Blood… a branch I knew from my European tour last year and from the movie In Bruges.
We met with a bunch of the kids who ranged in ages from 5-9.  They sang a few songs for us so at Dave's suggestion we sang a chorus of Row, Row, Row Your Boat for them.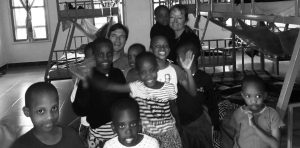 During the various non-traditional car rides (we crammed 9 people into a 7-passenger van), Marie Frances would tell us stories.  I'm hoping one day she will write a book and I'm tempted to offer to write it as a Q&A interview.  She'd do most of the lifting as she can talk that's for sure.  I almost think a verbatim transcript would be best but I'll summarize one story here as it's relevant:
The Mount Kilimanjaro Marathon was never supposed to happen.  Marie was in Egypt, defying the odds and putting on a marathon there where others had long failed.  To mark the course, a Marine offered to ride a bike and measure out the 42.195km distance.  Marie took him up on it and weeks later he asked her a favor – could she find a way for him to climb Mount Kilimanjaro?  She tried to explain she couldn't do that – she'd never even been to Tanzania, let alone had contacts.  But the Marine names Steve was confident she'd find a way.
Taking up the challenge, she met with the minister of tourism for Tanzania and said she'd like to do a marathon around Kilimanjaro and seeing as how successful she'd been in Egypt, wouldn't that be a great idea?  The minister was intrigued and set up a meeting in Tanzania with various government heads.
So Marie and Steve the marine fly to Tanzania and Marie goes into this netting.  She says this is her assistant Steve who measures the courses and while they were meeting to discuss things maybe he could go climb Mt Kilimanjaro.  The minister said no problem and off Steve went.  So Marie thinks she's golden as she figured the Tanzania government and bureaucracy would be as hard a nut to crack as Egypt's… only to her surprise unlike her previous experiences these people really wanted to do a marathon.  They thought it a great idea, a means of starting events in the country to lure more tourists and investments.  So Marie, not wanting to disappoint them, set about producing the Mount Kilimanjaro Marathon… and Steve came back down from summiting to Uhuru.  I told her that was the worst business deal ever – in exchange for road marking two courses on a bike (Egypt and Tanzania) she so far has wound up producing a 28 year event!  I'm glad she did the deal as here I am… but seriously… she overpaid!
While hitting a local supermarket, Ed spotted these cookies which I bought for Marie.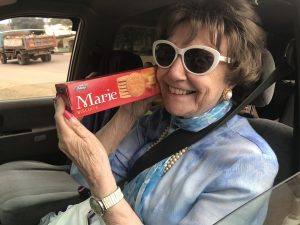 Eileen though perfectly captured the moment.