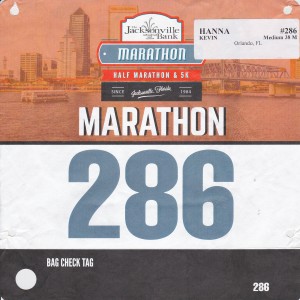 Whenever I'm asked about running in the rain, I try and tell people that once you're 100% soaked you can't get any more wet so you might as well keep running.  That mantra didn't help this morning as my alarm went off at 2:30 AM for a 2.5 hour drive up to Jacksonville, FL.
I had run this race a few years back and it always surprises me when I repeat race the things I remember about the re-run course.  Today I distinctly remembered the out and back 3 mile loop that that started the course and the Hooters we ran past at miles 5.5 and again on the way back at mile 23.5.
It was a rainy, surprisingly cold return engagement this morning and I wasn't in the mood to run.  I did however have my Mom along to cheer me on.  The rain finally stopped around the halfway point but I was pretty soaked.  Yes, yes 100% through and through so how could I be any more soaked?  I just seemed to be soaked and chilled to my core.  I did appreciate the soup and hot chocolate at the finish line inside the Bolles School's stadium.
As it happened, I wound up with a sub 3:30 for the first race of 2016 and got to spend some time with my Mom.  So whinging and whining aside, not a bad way to begin the new year.
Here's a shot of Mom and me at mile 3 and at the end of the race.