Six years ago, I ran the Savage Seven Series – seven days, a marathon a day, all using the same 5 loop course. It was mind-numbing. But it was a thing to do. And I was in pretty good condition back in those days. I was averaging a sub 3:30 every day save one.

This year I realized I needed a race for numbers purposes only… albeit if I'm being honest I also needed it to try and lose some of the soft-in-the-middle Paul Simon Graceland-ian vibe of being a middle aged dude.  In shuffling through my options, I figured I'd add one of the Savage Seven days for old time's sake.

I ran the loops once more today. And it was just as boring as I remembered.
I came in at a significantly slower pace than any of the seven days from six years back. But I'm one step closer to my leveling up number. So… a partial win? An unacceptable, "teachable moment" loss?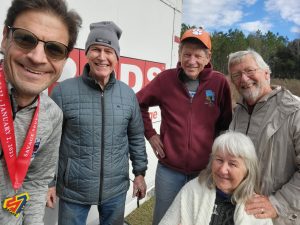 Another day, another race… another race, another number… another number, another step closer to the 500.