On this Oscar Sunday, I made the trek up the 405 to Bakersfield, California.

The race festival was at the Kern County Museum, a Wild West style Oil Boomtown, complete with oil derricks, western storefronts, and inexplicably a neon sign graveyard.
Apparently there were 1400 participants across the various distances — a 6K, 10K, half marathon, and full marathon. There were just over 200 signed up for the 26.2 course which meant long stretches with few folks nearby. Little did I realize how much I would prefer that to the merging and re-merging with the other events throughout the distances. During one segment we were on a bike path that had people coming and going, making passing or maneuvering a bit difficult. I wound up just running on the dirt parallel to the paved trail… which actually felt kinda nice on my toes as a different surface to be pounding.

I still think I may have a broken toe that never quite healed correctly but at least this time I was able to mostly control any pain issues, unlike the last few races I've done. My left foot's "index" toe… I suppose it's the little piggy that stayed home?… it's misshapen and buckling when I compare it to my right foot's homebody little piggy. I'm mostly fine walking but sometimes when running I can feel a stabbing pain there — no rhyme or reason to it just a footfall that prompts it to squeal like, well, a little piggy. I mention this partly to explain why I sometimes see my pace collapse along the way but honestly that was less an issue today. Today was mostly a slowing pace due to the 3 AM wake up and just general tiredness overall.

I will say though there weren't spectators all along the way, those that came out to cheer folks on, especially those who walked out their front doors and actively supported their homes being blocked off for us runners, were all very friendly and frankly showed an "esprit de corps" that was definitely a boost when things got tough.

I don't have much to comment or say — I'm still a little bleary eyed and bedraggled, plus I was watching the Tar Heels advance to the Final Four… and now I guess I should flip through the Oscars to see if there was a massive write-in for the true best picture of 2022, "PIG."

Therefore, here are pictures in general (PIGs if you will) for the day in question:
By the way, in the race packet there were these tips for runners… Number 7 is total BS in my humble opinion.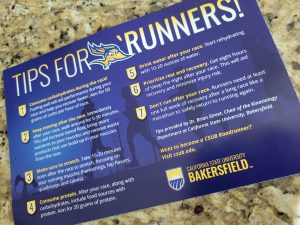 Side note: I could count on one hand the number of runners wearing masks in the starting area… and I was one of them.  I guess folks have decided they are done with the pandemic… I'm just not sure the pandemic is done with us.