It's a very pleasant 72 degrees today in Hong Kong. Light breeze. Kinda perfect lounging around weather. So today is a take it slow and prep to run day.
The packet pickup was a queuing conundrum. The line was always moving but you just finished the queue for your race bib…
And you were directed to another queue to get your race shirt.
Again, it all moved…and to be honest, it was sort of Disney-ish in its line flow – we exited through the gift shop… or in this case the Marathon Carnival.
Tellingly, and perhaps somewhat troublingly, the longest purchase line was for Salonpas pain relievers.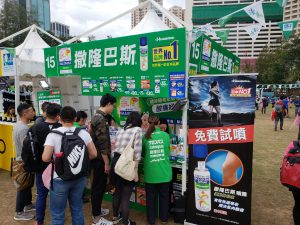 Reuniting with mom, I thought today was a perfect day to hit The Peak, Hong Kong's mountaintop view of the island. It's grown a lot more commercial, offering a shopping mall atop the natural wonder. I suppose even here, you enjoy the beauty and the view and then exit through the gift shop.
***
To be continued…