Sometimes we lie to others because we're lying to ourselves.
I've tried not to freak out about my Mt Kilimanjaro trip, mainly because it seemed so far away and I had plenty of other marathons and trips inbetween sending in my deposit and actually boarding a plane.
And yet this morning I was boarding a plane, en route to DC for the night so as to ensure I could catch the pre-booked flight at 10 AM tomorrow. I already felt off my game as on Monday I suddenly realized this flight was on Thursday (today) and not Friday like I had it in my head for months on end. I don't know why losing a day but not actually losing a day had such an impact on me. But I felt very frazzled prepping for this trip. So much so that I just kinda winged it.
I kept putting off reviewing the packet of information sent to me way back in December for this tour package. I finally opened up the blue file folder while sitting at gate 101 of Orlando International Airport this morning. Turns out I really should've looked at the "what to pack" list BEFORE going to the airport.
I knew anytime I checked the weather it felt weird that Mt Kilimanjaro had two wildly divergent temperatures. Turns out one is for the base of the mountain and one is for the summit… and as part of this tour, I'm doing the climb to the TOP of Mt Kilimanjaro. And while I knew it was their winter, and their dry season, I kept putting the logistics out of my mind.
Re-reading the provided information, I realize I was trying to block the… "unique"… "unconventional"… "borderline terrifyingly haphazard" nature of the prose. I kept telling family and friends it was all fine but that might have been me trying to psych myself out of the unspoken worries this tour packet inspired in me.
Take for example that the paper is cut down at time… none of it strictly speaking letter size or A4 or really any universally agreed size.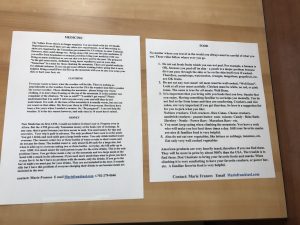 It's also replete with wite-out revisions for dates, as if the organizer had printed too many copies years ago and now just doctors up the paperwork to reflect the current calendar year dates.
I sent a photo to my family of the information warning, a page which quite rightly reminds us that it gets cold as one climbs the mountain (yes, yes, eighth grade science teacher Mr. Ennis… I remember this detail from our classroom discussions… now).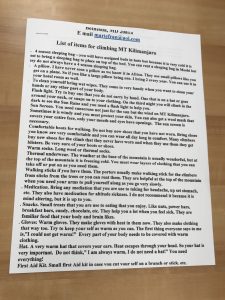 Steve was much more fascinated by the warning about African pillows, namely:
"I have never seen a pillow as we know it in Africa."
He asked Alexis, who spent time working for an NGO in Liberia, about this; she had no idea what they were talking about. I'll be sure to post photos when I see the African Pillow in the wild.
Serendipitously, with my layover here in DC I was able to make a run to a Goodwill Store and to a Giant supermarket to pick up some "supplies."  My bag is already overstuffed but I'll manage somehow.  Here's the haul:
one (1) Peru hat with camels — $1.99
one (1) sweater, green – $5.99
one (1) active wear jacket that's really more of a mini-parka, that thanks to a blue tag was 50% off — $2.49
two (2) boxes of cereal bars – on special, two for $4
one (1) box of 64 Disney-styled handi-wipes – $2.39 — The "Wet-Ones" were 20 wipes for $2.99 — gotta use math now and again, kids.  Don't let anybody tell you math isn't important.
one (1) roll of toilet paper I liberated from my AirBNB – $0… or $37.32 and the room was free.  Eggplant, aubergine.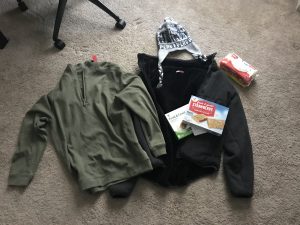 Having completed my errands, I decided to visit the Steven F. Udvar-Hazy Center, the adjunct Smithsonian Air and Space Museum out by Dulles (and my AirBNB).  Supposedly it's $15 to park with 30 minutes grace.  I read it ws free to park after 4 PM and when I got there just a little before 4, a line of cars were pulled over to the side of the road waiting for the big hand to get to 12 and little hand to get to 4.  But the sign never changed over from the $15 fee even after the bell tolled… thus I decided to Dominos Pizza-visit the place and get out within 30 minutes or less.
Or as Tom Cruise might have Instagramed recently:
Walking around the place (speed walking around the place actually), I snapped some quick pics and took in the sights.  For some reason I had it in my head that part of it was outdoors.  But maybe that was just made up for Transformers 2.  Or maybe it reveals how much I would love to go to the aircraft graveyard in Arizona and poke around.  In any case, here's some photos of me and planes, both inter– and intra-atmospheric (I'm not sure I'm phrasing that correctly — I wanted to imply there's planes and spaceships.  Does that work or am I just making up words?  Feldercarb.)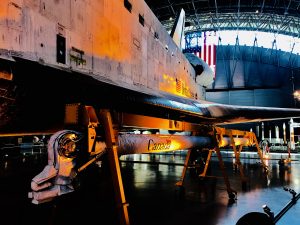 I'm settled into my AirBNB now and while I was tempted to go out and MoviePass something to kill the night, honestly, I think it might be better time spent trying to repack my duffel bag.  I've got waterproof this thing apparently.  Sigh.  Why didn't I re-read that list sooner.  I fear it's going to be one of THOSE trips.
I mean… it's gonna be great!  Super smooth!  Easy-peesy!
Lies become us!