I've made a horrible mistake. That's what I realized as I followed a woman running who had turned left at the T-intersection. I don't think this when I make the turn, though. No, no. It's the second loop of the 2-loop Not-So-Normal Half Marathon in Carrboro, NC. We're running through neighborhoods in the small town adjacent to my alma mater, UNC Chapel Hill. I only realize my mistake as a cop car pulls alongside me and the officer asks if we're running the race. At the same moment, the woman in front of me shakes her head no and I say, "Of course!" Only then does the penny drop… and the cop explains I'm going the wrong way. "Swell, I say," clocking an extra half mile as I turn around and head back to the T-intersection. Sure enough there's a tiny arrow pointing me in the opposite direction and a few runners in the distance running the race. This is the third time I've gotten lost on this course. You wouldn't think that'd be possible given the loop nature and yet…
For the next few miles, I silently curse and at times, under my laboring breath, mutter ill things about the race director and the organizers for what I deem a less-than-stellar route and lack of directions. The course is a twisty-turn-affair, spiraling through Carrboro neighborhoods in a hastily redone design due to last-minute permit alterations by town councils. Originally they were going to feature an inaugural marathon but their approved permit was rescinded months after the fact, leaving them scrambling to accommodate changes on the fly.
After a mile or two of my bad-humor man mutterings, I realized I had become that jerk complaining at the Queen City Marathon the previous day. The dramatic irony was not lost on me… albeit I found myself wondering if that was indeed irony given my prior day's attitude versus today's.  I keep using the word but I do not think it means what I think it means. I kinda suck at irony. And consistent tenses in my writing aren't my strong suit. Oh, and I'm not a strong speller… plus I have a tendency to run on and on (both literally and figuratively). Indeed, it's a wonder anyone lets me write anything ever. And then I realize this is the internet where any monkey with a keyboard can post at any time. Hell, given enough time a monkey will tap out the complete works of Shakespeare… or a blog about life but mostly running.
But I digress. If yesterday was a poor attempt to erase over-caloried mass eatings, today was about an opportunity to see some classic Chapel Hill friends. And around mile 12, Caroline Green stands outside her house that was located just along the course and cheers me on. The night before I got to watch the Tar Heels win their Final Four game and I got to do so at Caroline's house with some fellow alumni. It was a great way to spend the evening… and we commemorated the moment with a celebratory photo staged at the suggestion of Dave Matthews like it was 1899.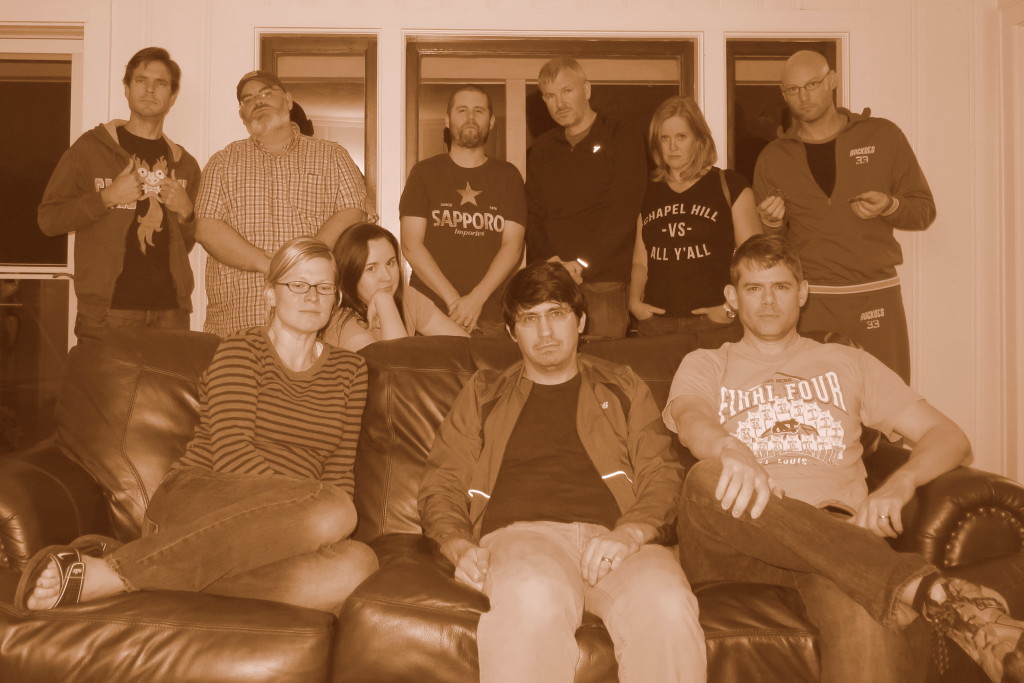 But back to the Not-So-Normal Half — a windy, chilly morning gave way to a clear, sunny day that never quite warmed up temperature wise to match the view. Winds and the occasional shaded segment meant for a blustery chill. But it was great running weather.
At the finish line, the wind blew the "No Alcohol Beyond This Point" signage and so we carried it with us, stretching the boundary to suit our needs and therefore never breaking the rules. We may bend the rules, but we don't break them per se.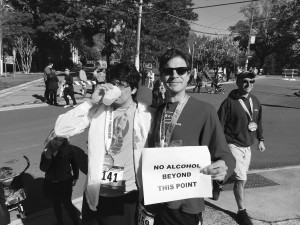 Speaking of which, most people seemed to think the course was short… a lot of GPS watches were showing 12.75 miles for the final tally and even the website offered two different route plottings that showed a variation of mileage possibilities for the route:
Thanks to my getting lost, my Garmin showed I did over 13.5 miles so, as the French say, such is life.
Having said that, Harper rocked the course. He originally told me he was looking to run 10 minute miles as he had been coming off a tough injury that was hampering his speed. But he clocked in at 9 minute miles and well under 2 hours; plus, he looked really strong at the finish line. Allison and their daughter Hattie waved and cheered him on. I was struck then as now by how lovely they all are — visiting both Rob and Darla in Charlotte and now my Tar Heel friends, I am thrilled to see them happy and supportive of their families and others. I'm not surprised as they are all terrific people in their own rights, but it is a faith-restorative weekend in the hope for the future to see parents raising kids who are polite, caring, and destined to be just as great as them.
So to sum up, as far as the running goes, I was ho-hum on the Not-So-Normal event… but was gung-ho on catching up with Harper, Allison, and the UNC crew.
***
Speaking of which, here are a few shots from in and around the Chapel Hill area. I didn't wander into campus that much as I'm slated to do the Tar Heel Ten Miler at the end of the month and thus will get a runner's eye view of the place then. But we stopped into He's Not Here, home of the famed 32 ounce blue cups of beer that I'm too old for. We grabbed a few rounds at the new-ish Carrboro microbrewhouse Steel String. Brian Newport, Caroline and her husband, and Harper all indulged my insistence on a photo. And Harper and Allison graciously let me force another old haunt onto them courtesy of burritos from the Armadillo Grill.
My last night in town, I could tell Harper and Allison really didn't feel like snapping a photo but they indulged me anyway. So we grabbed a quick shot in their living room. Despite my insistence that they looked terrific whilst I look bedraggled they jokingly asked me to crop them out of the photo. I didn't crop them but I blurred them "secret identity" style and slapped it up on Facebook. As I said in that post — Thanks for putting me up, and for putting up with me, Allison and Harper!
***
It's 5:24 AM on Tuesday, April 5, 2016.
I've already briefly mentioned the 10-hour drive home yesterday. The toll of a 2000 mile trek and the thrill of seeing so many greats from my past (and present and future) somehow contributed to a mostly restless night. I've been snacking on cereal, peanut butter, and all things bad for me throughout the night, long past midnight, and thus transforming me from a cuddly Mogwi into a snarling Gremlin. I'm feeling heavy and slothful so when the sun rises here in a bit I'll struggle out the door to begin again a quest to get into better fighting shape. But I don't regret the weekend with friends because there are few things in life better than to eat, drink, run, and be merry. Indeed, that might be what life is all about.