It's 5:29 AM on Monday, April 4, 2016. Harper and Allison have been such gracious and understanding hosts, as has their charming daughter Hattie and their super-friendly dog Theo. I've inconvenienced them for most of the weekend but it's been such a great opportunity to catch up with some Tar Heel alums right here in Chapel Hill, NC.
Today's drive home is a 650 mile trek that googlemaps tells me should take anywhere 8 hours and 45 minutes… or 9 hours and 20 minutes… or 9 hours and 5 minutes. I've checked a few times over the past few days and despite "normal traffic conditions" being reported each time I've tapped the GoogleMaps app, the drive time has fluctuated wildly. I'm figuring it'll be about 10 hours with breaks but who knows?
In the meantime, I've slept soundly thanks to a comfy guest bed at Casa de Harper and Allison and a long weekend's journey into running/driving marathons (or long weekend's journey into marathon and half marathon I suppose to be more accurate). I've put up placeholder entries with chip time results of both the Queen City Marathon and the Not So Normal Half Marathon. But I thought each deserved a bit more of a write-up… a close to contemporaneous summation that future scholars at the Kevin S. Hanna Presidential and Running Library (TM/Patent Pending) can refer to during their research into my (gulp) middle aged years.
And so let's begin with Queen City. It was a fine Saturday morning in the city of Cumberland, MD.

April 2nd would prove to be the beginning of another cold snap, with colder temperatures and snow looming in that night's forecast and now confirmed future past. But our morning run saw a brisk, lovely daybreak. The race began in the Canal Commons, a sort of central converted railway nature trail nestled in downtown. We gathered in the center of a central park field for last minute instructions and a live National Anthem. There were two races happening simulatenously. A metric marathon that would see runners doing 26.2 KM and a full marathon. Both events would use the same course – we'd run one way down the nature trail for about 3 miles, turn around and come back the way we came and then head up the nature trail's hill. Metric runners would turn around at mile 11 and full marathons would keep clam and carry on up the pass for another 5 miles before turning around and getting to run back down the incline back to the start/finish line.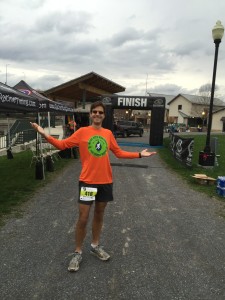 I had been worried about the trail given emails about gaiters being optional yet recommended, a few frantic updates on the muddiness of the course, etc. But all that worry was for nothing and my decision to wear crappy mud soaked trail shoes was unnecessary. The nature trail was 90% crushed gravel and 10% paved asphalt. Thanks to the relatively dry conditions and sunlight, mud was never an issue. Ultimately my feeling on the course was that it was a lovely place to run.
And run I did. I wasn't so worried about my clock time or pace, outside of needing to be done before 12:30 PM to make sure I had 6 hours to drive to Chapel Hill to meet up with Harper and Allison for dinner. And so I just ran. I was aware of time and distance and would check my Garmin throughout the race but mostly I just ignored the few mile markers that hadn't been blown over due to the previous night's strong gusty winds. I've often said the sound of footsteps on crushed gravel is one of the more soothing sounds in the world so to experience that for 90% of 26.2 miles, to be out in the world in a commingling of nature and humankind's railway paths, was entirely pleasant. It was a mostly cloudy day with just enough blue sky and sun peeking through to stave off any seasonal affective disorder. Conditions also were Goldilocks-ian for running long distances – not too cold, not too hot; not too windy, not too humid. Just right.
The long 10 mile incline up the trail path wasn't at a high incline but it was a slog nonetheless. It was a gradual rise but it just didn't end. But when confronted with the beauty of nature and the feeling of privilege to be out and about, the best way I can describe it is a feeling of contentment. I started consistently running as a stress relief from a high pressure job and life. I've carried on running as a recreational activity that provides an excuse to continue to eat, drink, and travel to excess. I'm lucky and I know it – to have that freedom both from time and injury is a fortunate thing indeed. And thus was a race wherein that feeling, that force, seemed especially strong.
"The Force is what gives a Jedi his power. It's an energy field created by all living things. It surrounds us and penetrates us. It binds the galaxy together."
―Obi-Wan Kenobi
Part of the trail run involved running through a train tunnel and though I thought the tracks were abandoned, that would later prove a false assumption. I loved this sign and the feel of running through the darkness with a literal light at the end of the tunnel ever visible and ever closer as I ran.
As time and miles went by, I found myself hitting the 16 mile turnaround. I had counted runners coming back and found myself in 4th place… with the 3rd place guy just ahead of me. What the heck, right? I chased him down the mountain and soon found me overtaking him. Somewhere in the late teens, early 20 miles, I passed a steam locomotive and a number of trainspotting fans. The conductor tooted his whistle and released the steam from the engine, blowing into my path – running through it was like something out of a Western movie.
Quick note: Faster than a stationary locomotive!
Somewhere in the early 20s, I heard rapid footfalls on crunching gravel behind me. A bike lead a guy speeding down the hill. I told him he was tearing up the course and he said he had been until he got screwed. The guy on the bike told me they had missed the turnaround and run an extra 2 miles up before realizing it. So not only was this guy superfast, he was superfast having run a longer distance than a marathon already.
But he was also being a bit of a jerk, I thought. This would later come back to haunt me in Carrboro (ohhhh… foreshadowing!). I thought he was unfairly blaming the race for missing the turnaround. I found out later the volunteer who was supposed to be at the turnaround had twisted her ankle walking up the path to get there from lower parking lot and had been late setting up the spot… but even knowing that I thought the guy was running with a Garmin and had to know the turnaround was roughly at mile 16. Even allotting for poor GPS reception and the notorious mileage drift of such watches, I couldn't fathom why it took him 2 miles past that point to determine he had missed the U-turn.
I was therefore back in 4th place overall and carried on running down the hill toward the finish. Winding our way back through the small downtown to the Canal Commons, the wind was picking up – the cold front was going to be moving in earlier than forecast but I would be long gone before the snow. I crossed the finish line in just over 3 hours and 34 minutes and celebrated a sparsely spectator-y course but a naturally wonderful experience. A few quick finisher pics and a Dunkin Donuts hummus wrap later and I ambled to my car for the long drive to North Carolina.
Thinking back on the race and the experience, again, the best way I can describe it is a feeling of contentment. It was the very model of a Saturday run through nature and emblematic of my preference for a "trail run." It wasn't very technical (i.e. it was a path carved through nature and therefore not a lot of large rocks, tree roots, etc that could trip one up). It was safe and adequately water-stopped. Volunteers were friendly and helpful. Despite the lead guy overshooting the turnaround, there wasn't much chance of getting lost. All in all, a very positive experience in this western wedge of Maryland.
I should note that because of idiotic nutritional planning and overindulgence in all things pizza (both as entree and dessert), this race was barely a calorie eraser.  That is I think at best I burned just enough calories to cover my excessive Pizza Hut dinner.  Albeit I suspect I still am more Jabba the Hutt than I'd like.  I tell myself that the approximately 3200 calories burned by a marathon covers the missteps of food on Friday night.  It is perhaps as delusional as anything ever uttered by the maddest of mad.  And my indulgences would only continue in Chapel Hill, NC.  But how could I resist the chance to overdo it when given the chance to see so many great people on such a short time?  Packing it in has many definitions when on a 2000 mile road trip.
Let me leave this with my favorite sign along the Queen City Marathon course, located at the top of the hill near the turnaround.  It's a sign that applies to many a situation this weekend: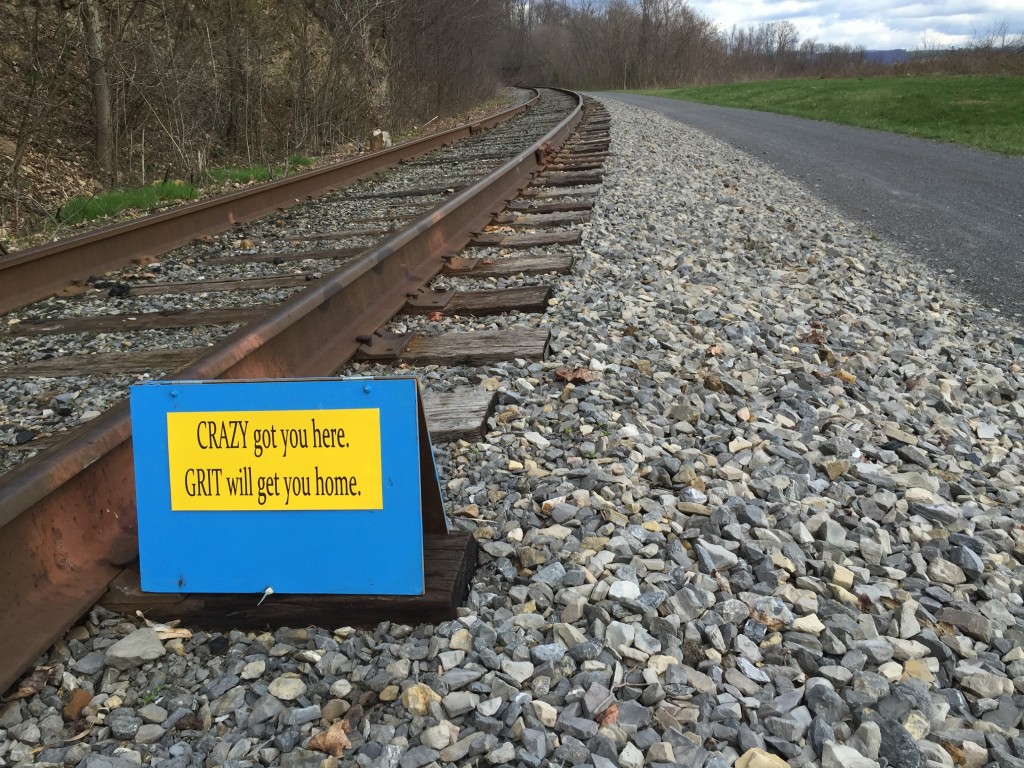 ***
5:47 PM – So after a ten hour drive, I've gotten home and have a choice before me: I can either try and tap out a summary of the Not So Normal Half Marathon in Carrboro or I can stretch my legs and go for a short run.  Given the name of this website, you probably only need one guess to figure out what I decided to do.
Run Kevin Run.
More tomorrow…