If P!nk were to do a companion piece to her 2001 Missundaztood track, and it was about Steve and me and our running, it might be called "My Pasadena."
To refresh your memory on Steve's Pasadena Marathon experience, give this post a read.
Tomorrow on my various flight legs back to the States I'll write up thoughts, delusions, and tears for unanswered mercy from that Lady Buddha on Monkey Mount.
But for now, here's a preview of what happened after I finished the race.
I had no appetite and just wanted to get back to grab a shower and maybe regroup a little. I could've taken a cab or a motorbike but I wanted to stretch my legs in the hopes I could prevent cramping when I inevitably flopped onto the bed to doze and recuperate. It was a slow walk back, me dripping sweat, downing the last of my free waters, and stopping along the way to try and catch my breath.
I've never done a triathlon, but I suspect the swimming portion would be similar to the Da Nang Marathon. The humidity was off the charts and it felt more like pushing through crashing waves of water than running on pavement. Remember when I said I was pleasantly surprised by the humidity reading yesterday? Total anomaly apparently. Today was much more typical — and brutal is the only adjective to describe it.
But I digress. I achingly climbed the stairs to my second floor room and doffed my shoes… or tried to doff them. Efforts to do so sent blood clots or muscle spasms reverberating through my whole body, debilitating, painful, as if creatures from the underworld were gnawing at my flesh and bone and I was incapable of doing anything to stop it.
I got inside the room and collapsed but not onto the bed as I was dripping sweat and disgusting from the run… and from the walk back from the run. I didn't want to have all that seep into my sheets making this evening's respite slimy and gross. I didn't have the energy to take a shower, nor even to turn on the AC unit. Instead I just fell to the floor, hoping the tiles would cool me. I lay there contemplating pain and agony and wishing I could just fall asleep and feel better. But damned if those muscle spasms didn't kick in now and again and I had to try and get up and work out knots, seizures, and the like.
I finally rallied to grab lunch and though I wound up ordering too much as my stomach still couldn't fathom having food in there, I was able to get something into me and I'm feeling better moment by moment.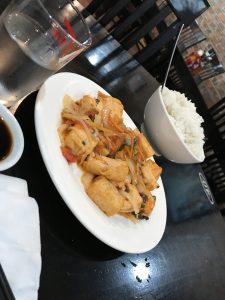 Bottom line: I survived and I'm okay but it was a tough, tough run/walk (spoiler alert: there was A LOT of walking on my part). Here's a photo I posted to Facebook that kinda sums up what kind of day it had been: I lost track of the number of water bottles I drank and/or poured over my head at 25, and that was somewhere early in the second loop.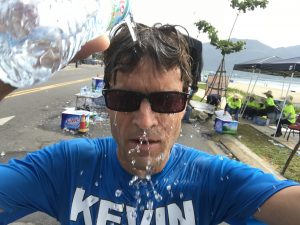 Tonight – a few hours of sleep with restless leg syndrome and then back to America.