Huh. Vietjet uses Myanmar Airways International planes. I was not aware of this as I rode an airport transporter bus from the terminal to our awaiting aircraft. I kept asking anyone in a uniform if this plane was going to Da Nang. Despite repeated broken English reassurances, I actually wasn't 100% sure until I landed in DAD airport.
***
The packet pickup was at Bien Dong Park, or East Sea Park.  It's right on the sand and I had hoped to get there early enough to get in and go.  The expo started at 9 AM; it was half an hour walk from my airbnb but dilly dallied in its air conditioning before venturing out… plus I learned my lesson and donned shorts for the day.
The announcer said there are runners from 43 countries registered this year. There were 31 last year.  All told, there will be 3000 runners across all their events – the full marathon, the half marathon, the 10km, and the 5km.
I think all 3000 decided to show up at the exact same moment I did.
The line is something out of a queuing nightmare. We are barely moving. It's been twenty minutes and I've gone 3 feet.
I snapped a photo with a deflated Ronny, a Manulife running mascot. He's seen better days. And despite having my phone for a good 90 seconds, the photog snapped one middling pic. Am I the only one who understands digital means you snap 5-6 at least in the hopes of getting one decent one? Am I such an outlier iPhone anomaly?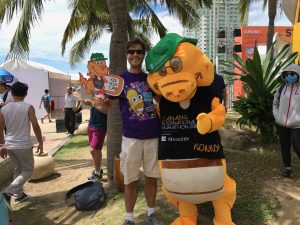 This is what Ronny looks like in animated form: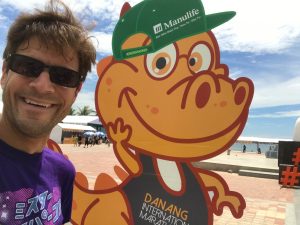 It's hot. But not as humid as I feared. Maybe because we're by the beach? DaNang is definitely a beach town, exuding a Miami flare or maybe what I imagine Havana was like in the 1950s. There's casinos everywhere. But it's a nice beach. Haven't seen any surfers though. I know that's weird to have that in my must-see but I want to believe in breaking stereotypes!
In the distance I can see the large temple/shrine my seatmate to Saigon showed me on his phone. It's an impressive thing even from afar and I really hope I can get over there.
But that requires getting through this freaking line. And I know it's juvenile to laugh at spellings and faux profanity… or should I say pho profanity? Zing! But this beach I think might be called Phouc My Beach. Which makes me titter like a fifth grader … or it would if I didn't find myself cursing this beach as I stand around not moving in line (or to be fair moving sloooooooooowly).
The announcer just told us this year they're introducing cut off times for the events.  It's 6.5 hours for the full marathon, 3 hours for the half, and 2 hours for the 10K.  There apparently is no cut off for the 5k.
We rounded the last corner! Home stretch! I made the two people in front of me celebrate.
And in just about an hour, I was officially BIB'd!
But wouldn't you know it? After wandering around the expo snapping photos and whatnot, no more than twenty minutes, the line had dropped to nothing. The moral of the story – never be early or on time. Better to be late and slide in. Sigh. What a crappy moral. And I've had it proven time and time again.
And yet despite the 4:30 am start time tomorrow, and even with the clear lessons from just today but 349 previous marathons, I'll still get to the start line ridiculously early. It's just who I am.
***
So amidst the expo photos, a few Vietnamese folks wanted to take their photo with me. I assume they are Mr Phat's Dumpling fans. Glad I wore my Mr Sparkle shirt!
Here are a few other photo op pictures from the day.
Secrets of the expo — Ronny has a drinking problem…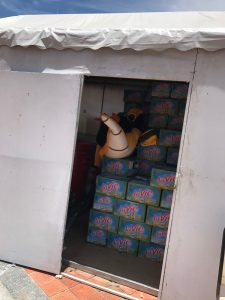 ***
I thought I should grab lunch before trying to uber to the huge Goddess of Mercy at the Linh Ung – Bai But Pagoda. The whole afternoon proved more difficult than I would have thought.
I don't know if I was trying to eat lunch at a weird time (12:45 pm) or if on Saturdays placed keep different hours, but a lot of places seemed empty or closed. There were a few hole in the wall places I was tempted by but they seemed to be frequented by guys soliciting motorbike riders and I got fed up at more than one or two "maybe" places with guys shouting at me and motioning leader of the pack style offering a motorbike ride.
I wound up at a place closer to my hotel (and farther away from the giant goddess).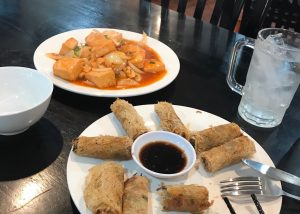 But I think they could use a new food photographer.  Or maybe not — maybe this is EXACTLY what you're going to be looking at if you order Ga Hap Hanh: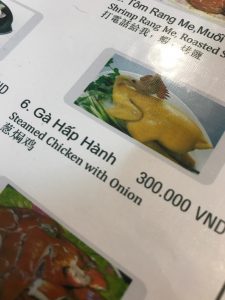 ***
A few stray shots from the DaNang Beach area:
I found Beach Number 1…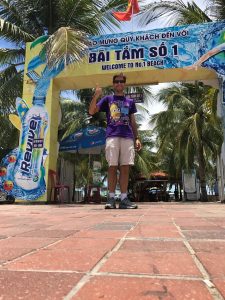 So why as I proceeded along would I want to go to Beach Number 2?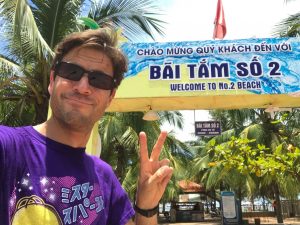 Or really low rent and hit Beach Number 3?  Madness.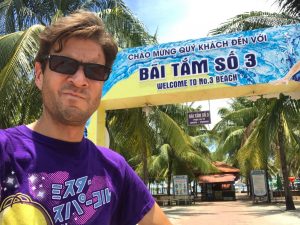 And sometimes I have to ask myself if I'm 40 or 4 years old… this is evidence of the latter: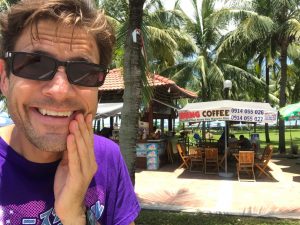 And here?  Here I hear they sell good shit: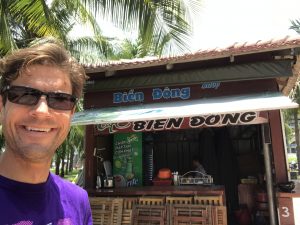 Note: "bien dong" means "East Sea."
***
Afterwards I walked toward a hotel with free wifi. After uber spent five minutes trying to find me a driver I cancelled it and figured I'd grab a cab. But doing the math, I was going to run dangerously low on dong… I needed some to get a cab back to the airport, assuming uber would continue to be flaky here in DaNang. I needed just a few more hundred thousand (!!) dong as a cushion… but that meant using another ATM.
I was okay with this decision until I inserted my card and a tutorial screen popped up. It was advising me on how to check for skimmer devices on the machine that might enable criminals to steal my card details and gain access to my bank accounts. I tried to follow the onscreen diagrams but if you've ever been told by a copier machine how to fix a paper jam by opening and closing tabs b, g, and t you'll know the feeling of exasperation I felt. Yet I needed the dong
I'll call my bank when I'm back to the states and get a new ATM card just to be safe.
I asked a cabbie how much it would be to go to the pagoda. I thought I had the full Vietnamese name and took a screen grab of it on my phone when I had wifi to show him but he seemed oddly confused. When I gestured at the hillside and said "Buddha" the proverbial now defunct five hundred dong coin dropped. He told me it would be around 120,000 dong … on the high end of the uber estimate but he was here so in I went.
During the drive along the coastline, there were a number of views I thought I'd try and snap through the windshield – always a disaster and this was no exception. As we wound up a few switchback hillsides, we pulled into the drop off parking lot and the meter said 117,000 so 120 was close enough. The guy said he'd just wait for me but I waved him off. He looked insulted and motioned two fingers walking, shaking his head dismissively. It kinda ticked me off. I thought if I couldn't get a taxi back I could walk it–hell, last weekend I did two marathons and this weekend there's just the one. I sure as hell could do a downhill 5k. But I still figured I'd just get a cab or uber back down. There was wifi here on Monkey Mountain.
***
I like big things and I cannot lie. But I don't really know what this thing is. Understandably, all the signage was not-understandable to me. It was in Vietnamese.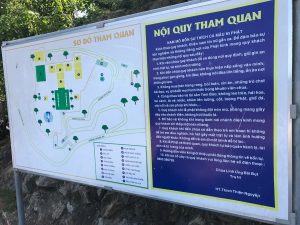 A later google search indicated that this is the tallest Buddha statue in Vietnam and is located in the largest pagoda in DaNang. If you'd like to know more, visit this handy official Universal Record Locator: http://ladybuddha.org/
The courtyard: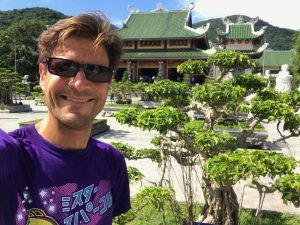 The backside from the courtyard: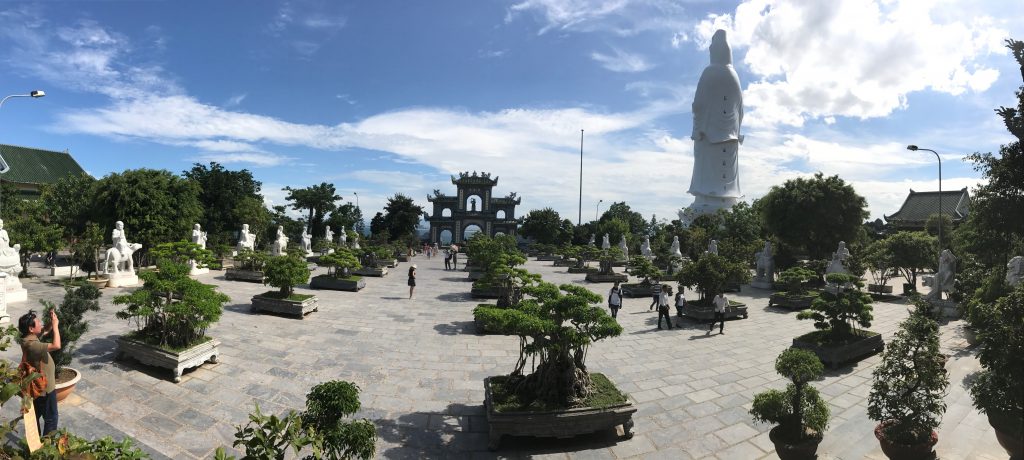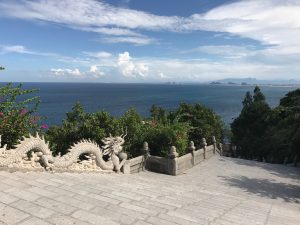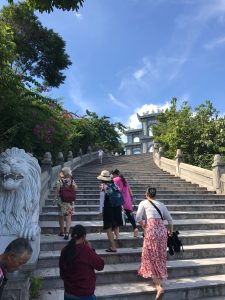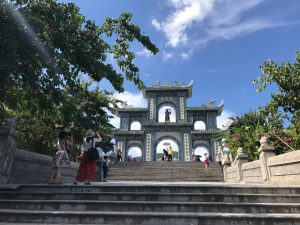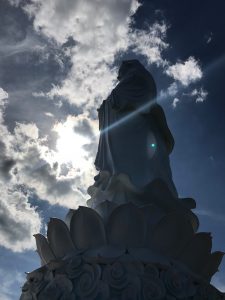 I appreciated it the same way I appreciated Christ the Redeemer in Rio – not my thing, but it sure is big!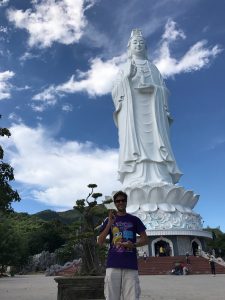 Oh, and did you know enlightenment can be yours for reasonable prices in the Pagoda gift shop!

And what cosmic appreciation did I obtain? Uber doesn't serve the top of Monkey Mountain. And I couldn't tell if the cabs were waiting for their passengers or free for hire. So I decided to say screw it and walk back. I could stop for photos. I could appreciate the views. It wasn't about the probably $5 for the fare. It was the principle!
Ya know what's a bad idea? Fighting on a misbegotten principle in Vietnam.
But I did take my time. Shot some photos. Bought more water at one of those roadside stands I always wonder who stops at (turns out, I do).  And
Somewhere in here I started to have second… third… and fourth thoughts.  Look in the background — you can see the Lady Buddha Da Nang but she's pretty tiny because it's A LOT farther than I thought.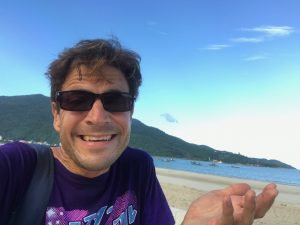 Fortunately, the expo was still going on so I could score a few free bottle of water for the final trek back to the airbnb.  And because opportunity knocked, I answered the door and took a few more photos:
Ok, this is one of the OTHER giant mascots for trace sponsor Manulife.  I gather they're a Canadian based company with offices in Vietnam… or maybe they're a Vietnamese company with offices in Canada.  Either way, I GUESS that explains a Vietnam uniformed bear rocking a Canadian Mountie hat… but I'm not sure.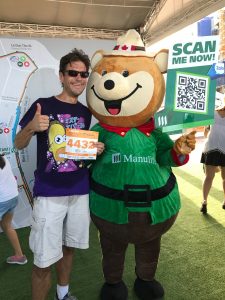 It was an early night as my alarm was set for 2:30 AM to allow plenty of time to amble over to the start line.