Always have a rain plan.  You never know what race day is going to bring so plan on things going awry or not being ideal conditions.  It's true for runners and it's true for race directors.
It was a rainy, damp but 60-ish degree morning for today's 10K at Walt Disney World.  And yet runDisney failed to have a contingency plan for its character interactions along the course.  In the opening 3 miles, I passed at least three character stations unmanned, unmoused, un-attended.  I know because the lighting was set, the stage props abounded, and music was playing to cue the runners and photographers for the mood at each photo opportunity.  A 2-D plane set with the earworm Ducktales theme (Woo-Hoo!) was as abandoned as a lost tomb in some cheesy island adventure film.  A giant mushroom and Randy Newman's bouncy score for A Bug's Life featured nary a Flik nor any signs of life.  The stars of Frozen were nowhere to be seen on the overpass as Christophe Beck's lush orchestral soundtrack swirled.  Three miles out of a 6.2 mile run.  Astonishing given the price point of this 10K.  And just yesterday I was writing about a key selling point of these events was the photo ops along the courses.
At the end of the race, there was no Minnie Mouse to snap a selfie with to celebrate one's success.  We asked an information booth attendant who proved to be clueless and information-less, a guy who mumbled that due to inclement weather there wouldn't be any photos.  When we pressed if that was going to change, he ambled off with an umbrella in his hand like he were impersonating Flash from the recent Zootopia trailer, saying he'd find out.  We eventually sighted him 10 minutes later with his umbrella only now he had a half-empty Yoohoo bottle.  He said the characters would be back if the rain stopped.  Not much magic there, not much guest relations.  You know where it rains?  Florida.  This wasn't some fluke chance rain storm on the day… I would've thought Disney might have a rain plan but I should know better.  They equally poorly handled rain during a Wine and Dine Half Marathon run I did with them a few years back.
When cover was available they did manage to get some characters out and about on the course… and even had them in direct downpours.  Why they didn't have a tent for a few of these folks, especially at race end, I'm not sure.  But at about mile 4 I can say there was a touch of pixie dust courtesy of Mulan and Mushu.  Amidst the rain at the China Pavillion in the Epcot World Showcase, our favorite cross-dressing princess asked me if I was awoken this morning by a dragon too.  I chuckled and said "no dragon" and without missing a beat she said, "Oh, you must have been awoken to a gong then!"  I laughed and for a brief moment all thoughts of overpriced race entries melted away.  Too bad my photo was snapped in mid-flash from the race photographer.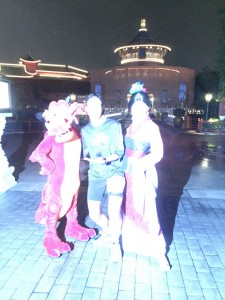 So some ups and downs due to the weather conditions and contingency plans from runDisney.  Not a good day but it's the little things that salvage a bad day.  And that includes the good people who provide Guest Show at the theme parks — these men and women work so very hard to keep the parks clean.  They're magical and while I think I freaked out these two guys when I asked for my photo with them, I think they were legitimately happy to do so when I sincerely thanked them for all they do.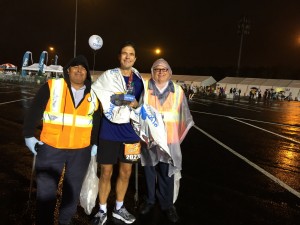 Clicheville but we need to look for the silver linings in our rain clouds.  So to Mulan and the Guest Show team and the supportive volunteers and mostly my Mom who endured the rain and cheered us on today — thank you.  It's a crappy day for you too and you put up with it.
Because neither rain, nor sleet, nor dark of night should keep us from running.
Photos from the day: