Over the years I've been to a lot of running expos. More often than not these days, run organizers are requiring runners to attend the expos to pick up their bib number and timing chip. Part of this is a security measure to curtail unsavory nefarious folk from illegally entering the race with running desires or dark purposes. But the reality is more likely that the race directors have promised the expo exhibitors a captive audience and need to ensure walk-throughs at the minimum to justify charging whatever it is they are charging the exhibitors to show their wares. I'm okay with that unless there is a legitimate reason/rationale for sending someone in your stead to pick up your number or travel plans/logistics mean you really need a race-day pickup.
Today I was at the runDisney race expo for the Walt Disney World Marathon Weekend. I'm doing the Dopey Challenge for the third year running, which means I'm doing their 5K, 10K, half marathon, and full marathon over the next four days. It's an expensive and time consuming series — as hard as the distances work out to be, the wear and tear of four straight super-early mornings to get to the start line takes the greatest toll. Because Disney wants to clear the events as early as possible to limit disruption of theme park hours (and to ensure runners can hopefully enjoy some RnR in the parks), they start their events typically at 5:30 AM with suggested arrival times for traffic and walks to the start of 4/4:30 AM (I should note the 5K starts at the downright reasonable hour of 6 AM). It can be a long morning to be sure and it's not a cheap monetary commitment to boot. This is one of those classic events where the cheer squad signs read less facetiously "Remember: You Paid To Do This!" Every year I swear they price me out of signing up again and yet I do… and so do lots of other folks because every year they sell out within hours of opening registrations.
That's all rambling preamble to the heart of this post. The expo is a massive, controlled chaos, a sea of people stumbling forwards and backwards lining up for ever-diminishing free samples and ever more opportunities to purchase commemorative items or running gear. But every so often there's a corporate freebie that cannot be ignored, some goodwill branding ambassadorship that just makes me smile. Unfortunately, several of the free photo booths weren't working when I was there… but this one, perhaps the greatest of them all and certainly the fairest was in full swing. While countless folks virtually lined up to purchase runDisney New Balance shoes (and admittedly, the Dumbo ones are pretty fly), there was essentially no queue at all to meet Ms. Chiquita Banana.
As I posted onto Facebook with regards to today's photo, I forgot to ask how long her reign lasts. I'm pretty sure she was Ms. Chiquita Banana when I did the Wine and Dine Half Marathon in 2014… so either it's some sort of senator or presidential term. Or maybe it's like the pope — she's Ms. Chiquita Banana for life or until she pulls a Pope Benedict and… wait for it… splits.
I'm pretty sure she didn't remember me.  Odd, as I was wearing the same hat.  But that's the thing with celebrities — they meet so many people and while for you and me, meeting them is a big, big deal, for them it's just another Wednesday at the office.  There's perspective and a lesson on life in there somewhere I'm sure.
Final thought for today — if someone asks if you want to meet Ms. Chiquita Banana, you say "Yes!"
Photos Worth 1000 Words or More:
A Dumbo Style New Balance Shoe.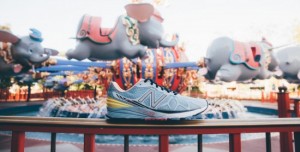 ***
November 11, 2014 – runDisney Wine and Dine Expo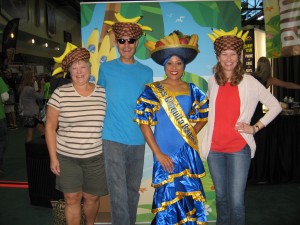 ***
January 6, 2016 – runDisney Walt Disney World Marathon Expo