I belong to a number of running groups and today somebody posted this discount code for the Philadelphia Marathon.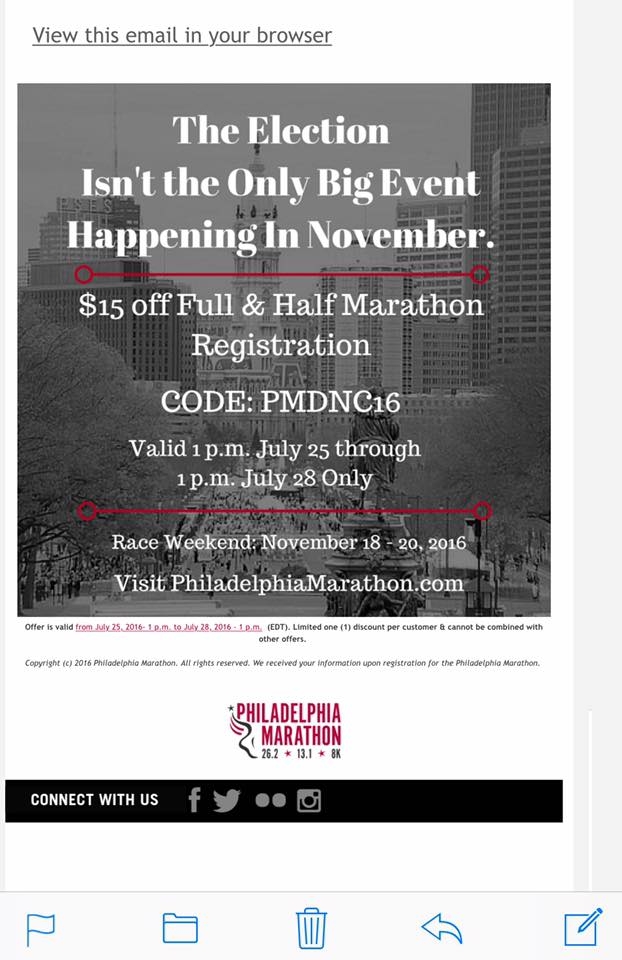 I'm already slated to do a six day Mainly Marathon series that finishes on Saturday the 19th of November. I've spent the morning checking flights to Philly to see if there was any way I could swing out to the City of Brotherly Love and run their marathon once again. A few years back, I high fived the then Mayor Nutter at the start line and got to catch up with a few friends from the ol' neighborhood. It'd be a tough turnaround for that weekend in November and would require asking a friend to pick up my bib and drop it off for me at some random spot, perhaps under a rock or at the Rocky statue or something.
But in my heart I know this is a beyond bonkers plan. As it stands, that week I'm running the Infinity Gauntlet Challenge in Disneyland with a 10K on Saturday and a half marathon on Sunday morning… then after that I'm driving directly to Las Vegas to run their dusk marathon on the strip before getting BACK into my car and driving out to Day 1 of the Southwest Series 6-day challenge. Am I really considering adding yet ANOTHER flight and yet ANOTHER marathon to this schedule?
I hate the phrase "Let's Just Say…" as honestly rather than couching the words with "let's just say…" why not, ya know, just SAY the words… but let's just say I might be asking the Philly race director if there's any way to bend the rules and let me do a race day packet pickup. And let's just say I may revisit this before the end of the week.