Tacom-again?  Just another strong start and really rough finish.
It's a long way from one corner of the continetal United States to the other.  And this weekend's trip was made all the longer as we had endured the build up and fallout of Hurricane Ian down in Florida (and beyond).  On the plus side, we were amongst the lucky ones — minimal tree damages and flooding and we kept power the whole time.  This is a marked contrast to the tragedies of Puerto Rico and the coastal cities.  But it still took a toll.
This was always going to be a whirlwind trip — an early morning flight to Seattle, a quick packet pickup, and a snoozle before the marathon on Sunday morning.  I still tried to make some time for a few detours off the beaten path…
Here's a view of Mount Hood from the plane.  At least, I think that's Hood and not Rainier.  It's one of them.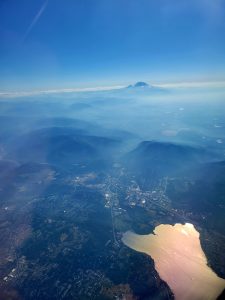 The packet pickup at Fleet Feet was smaller than I anticipated.  But then the whole event was going to be smaller than I expected.  Last Initial "H" and I'm bib number 28.  The frequency of surnames would imply there's well under 100 in registered for this thing.
Tacoma was apparently "founded," "supported" or maybe "exploited" by a slick salesman — and here's a statue honoring that.  Me?  I thought it was a 2020s art installation representing "Pre-Pandemic Man" – because shaking hands is SO 2019…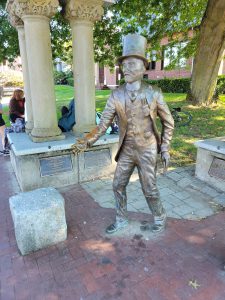 Amongst the other fables Tacoma statuary — this fish story which packs a wallop.  Guy catches fish, shows it to his lady friend who swoons.  Or perhaps proves herself the put-upon friend who "reassures" the man.  Smelled a little off to me.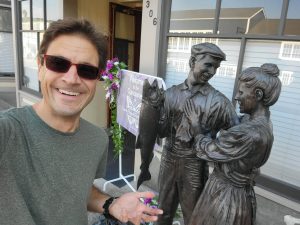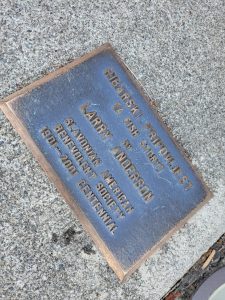 Speaking of being a little off — I felt the Museum of Glass in downtown Tacoma had missed a signage opportunity in its gift shop.  I mean, isn't this location just begging for a "You Break It, You Bought It… for $1.75 million."  I suppose most of the merchant wasn't THAT pricey, but it certainly wasn't going to be cheap to let a bull run through the place, ya know?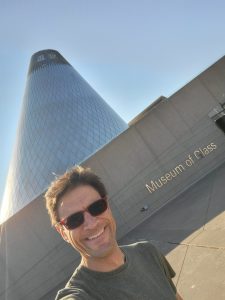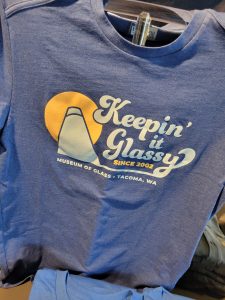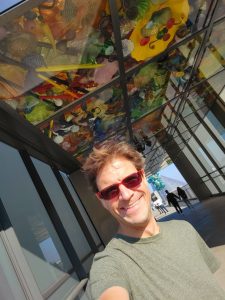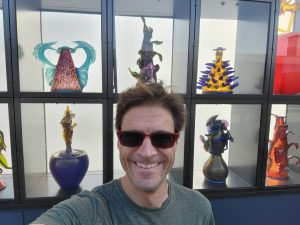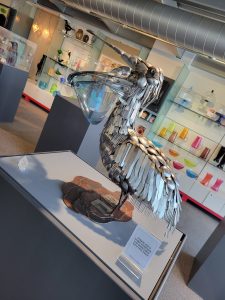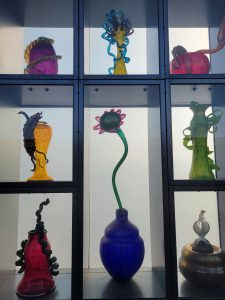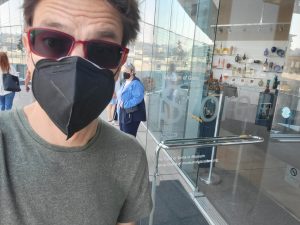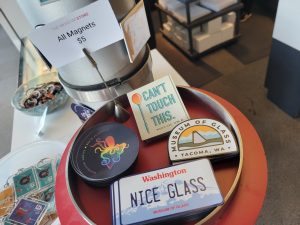 But this is a running blog, not a glass blog so quick recap of the 26.2 mile journey:
If I was supposed to get 40 winks the night before a race, I think I may have cumulatively put together 0.3 winks.  Just a restless, sleepless passage of time before my 4:30 AM wakeup.  We had to park at a local middle school and then be bused to the starting line.  They only needed two school buses to transport us all… and even then there was ample social distancing.  I still wore a mask… as did six other people.  The magnificent seven ride!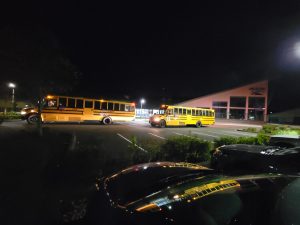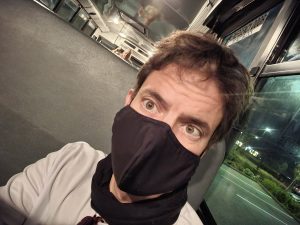 Like I said, a small field at the starting line…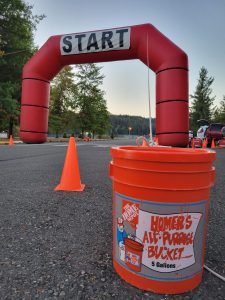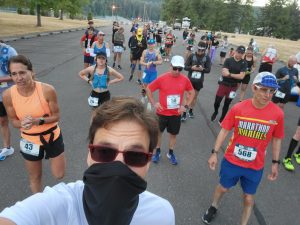 So small that I was running 3rd place for the first 15-18 miles (jockeying for place a few times but consistently running third).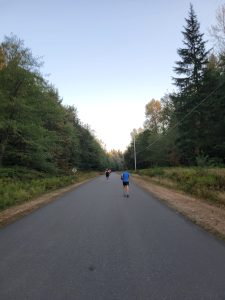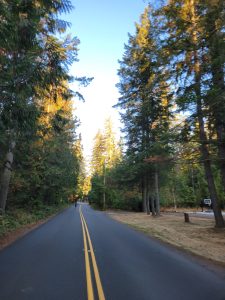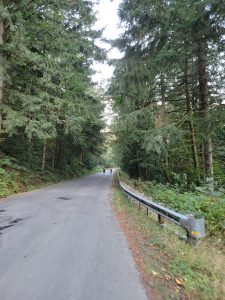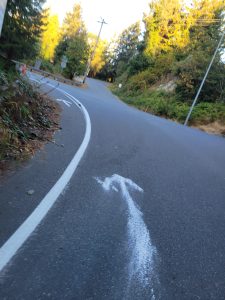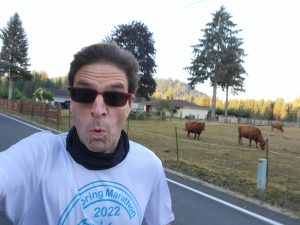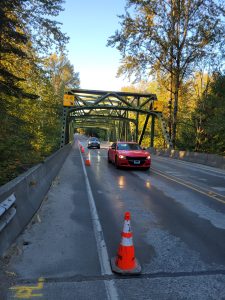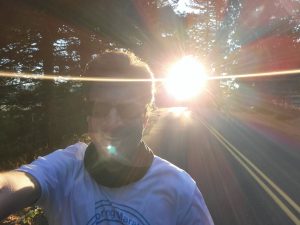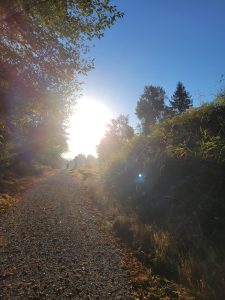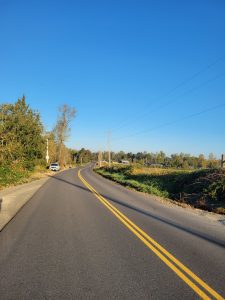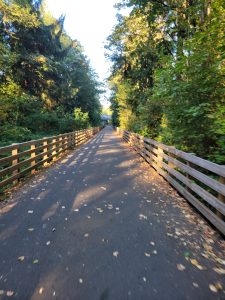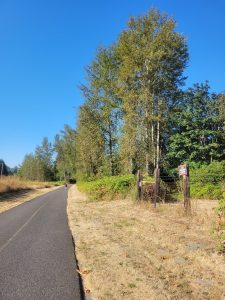 It was as I said, a strong start to the race… that would quickly fall off in the final third.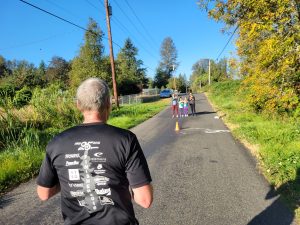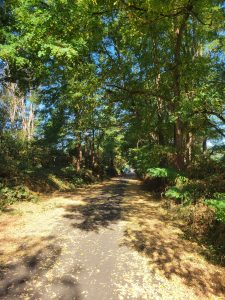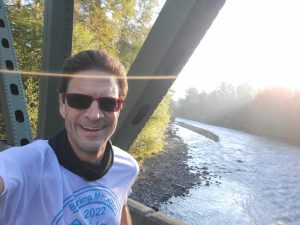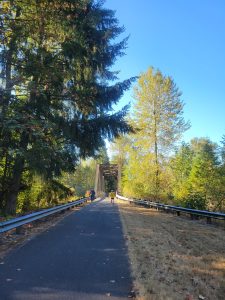 Many, many people passed me as I slowed to a walk or struggled ahead.  Was it soreness from picking up downed tree branches in Florida?  Yeah, there were some aches and pains from that because those are muscles I don't normally use.  But that's just an excuse.  It was as all races have been this year — just a lack of consistency in running 26.2 miles.  The Pre-Pandemic Kevin, who could shake hands and had been running a marathon almost every weekend, had built up his endurance, recovery, and repeat muscles.  But these days I'm all over the map with mileage, pacing, and endurance.  And it has taken a toll — I'm just not as fast or as strong as I used to be.
But there is a plan in the works to try and regroup.  So I tell myself.  With Boston 2023 looming, I'd like to put together a training regimen that provides a better foundation for the run.  I've said that before but this feels like I stand before the Rubicon and have to decide whether to cross or not.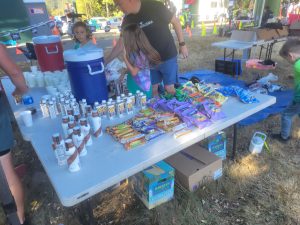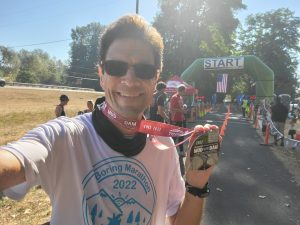 Onward.
***
FYI – This race was SOOOOOO small…
(HOW SMALL WAS IT?)…
It was so small that I came in FIRST in my age group…