An hour before my flight to Portland yesterday, as i sat in the LAX remote terminal gate area, I received this email: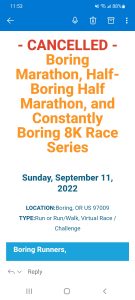 I debated what to do and finally scrambled to cancel my flights, my rental car and hotel. All told the fees to do so to get e-credit for later use was $40, plus the registration fee for the event itself.  I took the bus home.

The race director previously had said 2022 might be the last year for the event due to permitting and decreased signups. Now he was offering a deferrment for the cancelled event to 2023. I didn't want to pile on troubles to make a difficult situation worse, but felt I did need to ask about the intentions and reality of a deferrment.
I have not heard anything back yet, which is understandable given the logistics of canceling an event 18 hours before its scheduled start.

I struggled with a run this morning so maybe it's all for the best i wasn't trying to cover 26.2 miles today.

Maybe this is yet another sign that all aspects of my life are in chaos and turmoil.

Maybe this is yet anoher sign that I should leave it all behind and seek a great reset.