This time of year is always hard on me.  Some see it as the beginning of a new year but for me there's always a sense of endings.  It's a glass half empty time for me, winter and its lingering melancholy.
Fortunately, Mom, Steve and Alexis were good enough to travel down the bayou to converge and meet up in NOLA.  It was a tough race weekend at the Rock N Roll New Orleans Marathon made much better having my family there to cheer me on and get me through… and to have friends who are family let me know they were thinking of me.
I debated how to write up these days; I've begun three or four draft documents in MS Word only to backspace them out or virtually crumple the pages and recycle them digitally.  I'm not sure this is any better but the fact of life is that sometimes you just have to commit to a course and see it through.  I never stop third or fourth guessing but I do need to occasionally just accept something as good enough… and perhaps even more often to just accept something is "enough" despite all intentions at making it good.
I don't know if the company behind the Rock N Roll Marathons is struggling as a whole or if the numbers are just down for New Orleans… but there was a massive cutback in vendors at the expo and amenities throughout the weekend.
I'm in a bit of a post-race funk that developed along the marathon route.  As is especially  of RnR races, the weekend is geared toward the half marathon so the majority of cool sights and sounds are in the opening 13.1 miles.  The back half is a quiet, lonely run along nearly empty streets with adequate aid stations but little spectator or musical support.  Mom asked me if there were bands every mile as they brag about in the race promos.  I told her maybe every 4 or 5 miles.  The snapshots I took along the way captures the shrugable course.  I got bored and tired… and a massive headwind along the gulf front contributed to a sense of, "meh…."
I also felt myself bordering on the hyperventilating disarray of Disney which spooked me in the closing 5k.  In the end, I wasn't particularly happy with my run… but I was happy to see Mom Steve and Alexis.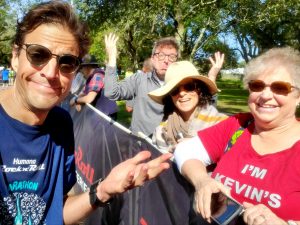 Rather than focus on the run beyond what I've shown above, here's a series of photos of a different kind of marathon – a meals marathon in the Big Eat… er, Easy:
February 7, 2020: After a long red-eye shuffle across the country, I met up with Mom at MSY and we headed to brunch at (French) Toast, hailed as one of the best places for breakfast in the French Quarter… and with good reason.
I mentioned the expo above, but after that Steve and Alexis got in from LA and we hit Emeril's for the first dinner of the weekend:
Note: I don't have any photos from this dinner because I was trying out a stopgap Huawei P30 Lite phone I bought to replace my cracked and damaged Samsung phone… its camera was sadly unimpressive and I'm not even sure how to get the pics I did take off it; maybe I should ask the Russians or the Chinese to hack it and find the missing photos… but in the meantime, we'll leave this section titled "Photos Not Available."

February 8, 2020: The next morning we did a whimsical brunch at Commander's Palace, a NOLA institution and a belly-busting delight.
We had all overdone it so it was a "light" eating thereafter… and by light I mean we scarfed down some beignets at Cafe du Monde:
I had an early night and ran in the morning with the aforementioned growing malaise of a lonely long distance runner… but we rallied for dinner at one of my favorite restaurants in town, Atchafalaya (February 9, 2020):
And so while the photo below has me looking seriously bug-eyed and old, everybody else looks great… which is as it should be.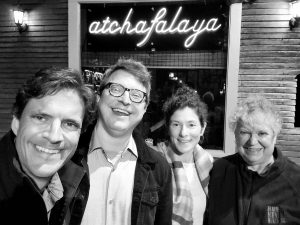 Thanks, Mom, Steven and Alexis!  I'm not always good company… but you three definitely are.
"Laissez les bon temps rouler!"  [*]

[*] pronounced French Cajun style as "Lay-say le bon tom roo-lay!"