I get a fair bit of junk emails.  Some of it is from spammers and some of it is legitimate stuff that for one reason or another the spam algorithm has decided is junk… no matter how many times previously I've clicked the "Wait…it's safe!" button for the sender.
Apropos of nothing, I checked my junk folder today and came across an email for a half marathon on Sunday.  I'm already running a race up in San Francisco but the half marathon kinda got me.  It's a Run to Remember, a tribute to fallen law enforcement officers and first responders.  That already seemed like a worthy cause but I was particularly struck by the course — it has you running through Paramount Pictures Studios.  Plus, the medal is pretty spectacular.  Here's the pitch their email made for the inaugural run:
We Cannot Wait to Hand Over Your Medal: The Run to Remember Los Angeles is just a few days away. Now, start imagining your race day. You'll run through Paramount Pictures Studios amongst celebrities, the paparazzi and adoring fans. You will experience an inspiring tribute to our 1st Responders. Then once you finish strong, one of our trusted volunteers in uniform will greet you at the finish line and place the below medal over your head. What a treat!

Check out our custom finisher medal below! Finisher Medals are modeled after the actual Los Angeles Police badge on one side and the Sheriff's badge on the other.
Adding to this was the last line of the schedule of events link.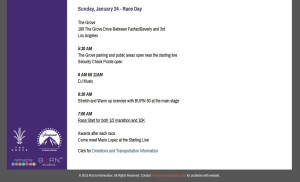 That's right — "Come Meet Mario Lopez at the Starting Line."
I run enough that I like to seek out events that have a "hook" or a unique, fun outlook.  It's why for example I ran a corn maze 5K.  This one has a great cause and a great hook.  But logistically it's a little tough.  I decided if I'd send a quick email to the race directors and let their response dictate whether or not I signed up.
This was my email:
Hi!  I would love to come and run this event as it's an amazingly moving concept.  I just saw your email about the event and I'm already doing a race up in San Francisco on Saturday.  My worry is that if I hit any kind of traffic on the way back to Los Angeles, I'll miss the expo packet pickup.  What are the odds I'd hit traffic in California, right?

I'm here visiting from the East Coast so I'm not sure I can have anybody else pick up my packet if I do sign up.  How hard a cut-off is the 7 PM expo time?  If I got stuck in traffic and got there at 7:30 would I be too late?

I know you said there's no race day pickup and I really hate to be "that guy" who asks for special favors/treatment but I also would really like to run your event.  As a result, I'm going to just embrace being "that guy" and be annoying and see if there's any leeway on the packet pickup.  I would really appreciate it.

Thanks for your consideration and more importantly thanks for your hard work in putting this event together.  I can't imagine the logistics and efforts required to coordinate any race but I imagine trying to pull one off in the Los Angeles area has its own challenges.  And separate from the event for us runners, thanks for working on such a worthy cause.

If it works out I can run it, that's great.  If not, please know as a runner I'm glad to know race directors are doing such great things for our brave men and women who have sacrificed for us all.

Best,

Kevin Hanna
Not two minutes later they responded.  Two minutes!
you can pick up your packet at the

Sunday

starting line area at The Grove from

5:30-6:30

thanks
Not only are they putting on an event for a great cause, they're super responsive and accommodating to a guy asking for special treatment.  That's about all you could ever ask of anyone ever.  I'm happy to say I'm all registered and looking forward to meeting Mario Lopez on Sunday to pick up my packet.