My brother came out to cheer me on!  That was the highlight of the day for sure.  It's always nice to have somebody in your corner.  It's been awhile since Steve and I got to hang out and while driving down to Anaheim at 3 AM isn't perhaps the best use of our time together, it was great hanging with him nonetheless.
As for the race itself, I will say I found it better organized in general as compared to last year's inaugural Star Wars Half Marathon but overall I'd have to put the race in the "missed opportunities" category.  For one thing, unlike the Avengers Half Marathon in November 2015, they still charged for parking for the half marathon.  So on top of the exorbitant registration fees, there's another $18 for parking on the day (or in the case of the Rebel Challenge, $18 EACH DAY of the events).  That adds up and adds mightily to the cost of the thing.  It's not a small figure to be sure.  And yet I paid it.  Doesn't mean I won't grumble and whine about it.  Harrumph.  Harrumph, harrumph.
The photo opportunities were also a bit disappointing.  At least for my time in the parks, it was an exact duplicate of characters I had encountered yesterday at the 10K.  Boba Fett, Chewbacca, Sabine and Ezra from "Star Wars Rebels," BB-8, R2-D2, the speeder bikes set, and the trash compactor.  No Luke and Leia (as they had last year).  No Darth Vader.  No Kylo Ren.  I suspect the latter are being held for the recently announced "Dark Side of the Force" half marathon at Walt Disney World in April.  But still.  Couldn't they have swapped out bounty hunters — what of Bossk?  Or Dengar — everybody loves Dengar!  And as much as I love Chewie, couldn't we have had an encounter with Nien Nunb?  And since droids were big this year, why not have Chopper from "Rebels"?  And while I love the Hoth photo opp in the parking lot, why not add a Bespin variation where you are dangling and the Millennium Falcon is flying up to rescue you?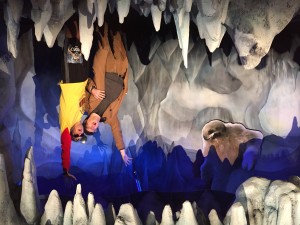 The cloned character beats were mirrored in the cloned race intros by the announcers.  The same electronic press kit pre-show hyping the new episodes of Rebels, the same spiel about the changes in Tomorrowland for the Force Awakens at Disneyland, and the same banter leading up to the start of the race: "Try and finish the race!  No, no, no.  Do, or do not.  There is no try!"  Yeah, yeah.  We get it.
I sound more down on the event that I should be as it was a pleasant way to spend the morning.  I think they revamped the opening miles in the parks as well as the route felt more fun.  Sadly, the second half through the streets of Anaheim felt especially underwhelming this year.  It's hard to map a course in Anaheim.  Walt Disney was always landlocked from the moment he set out to build Disneyland and that's partially the reason for the vastness of Walt Disney World in Orlando.  But the intimacy of Disneyland is one of its chief pleasures.  Still, you can only get so many miles within park property before necessity dictates you hit the Anaheim asphalt.  Other half marathons runDisney puts on wind you through Angels Stadium or elsewhere and I appreciate they want to keep certain aspects "special" to different events.  Nonetheless, they could do with a bit more "fun" in the back half of the course.  They do their best with school bands and cheer squads.  And similar to last year's event, the cos players were stellar along one avenue.  But there were long stretches were there just wasn't much of anything going on.
In runDisney and Anaheim's defense, I was in the first corral this year so maybe I was "early" to what they were going to be offering.  I sincerely hope they did do more things for later corrals — it's not easy standing around waiting to start in the staggered times they've set up.  And it's not easy being on your feet if you are a bit slower.  People who challenge themselves and the clock deserve to enjoy their experience.  Given my experiences with queues in later corrals, due to the ever marching "balloon ladies" that mark the end of the pace requirements, you very often had to skip official photo opportunities because the lines were too long and you ran the risk of being disqualified due to the time constraints of the course.  As a result, I strongly advocate special "later in the event" moments for "mid" to "back of the packers" who might have to choose between a photo and finishing.  That shouldn't be the case — everyone should have a chance to finish with a positive experience and I think runDisney tries to make that happen.  It's just sometimes they do a better job than others.  And in this instance, I felt like they could've done more and or done things differently from day to day.
Still, I got to hang out with my brother — if you'll pardon a Jar Jar Binks moment, that's a pretty okey-dey day .