My 8 hour drive to the Charlotte Pit Stop yesterday turned into a 10.5 hour affair.  Construction bottlenecks and rubbernecking motorists for typical fender benders created a perfect storm of slowed traffic.  And despite the chipper GoogleMaps voice indicating I was on the fastest route and my route was clear, this was assuredly not the case.
On the plus side, I did stop for lunch in Darien, GA, and there had a wholly unexpected encounter.  I've long wanted to see the bonny seas of Loch Ness, or really any part of Scotland.  But part of that appeal was to spy the famed sea creature Nessie.  Here though in Darien I was able to snap a photo with a real-live artist rendition of this small town's own sea creature, the legendary Altamaha-ha.
The other day I watched Pee Wee's Big Holiday (2016) on Netflix.  It's a good, smile inducing nostalgia trip that hews a little too heavily on the structure of PW's Big Adventure (1985) without the anarchic impulses of Tim Burton.  At one stage, our grey suited friend with the red bow tie encounters a motley assortment of pun spewing snake farmers.  The tourist trap proprietors and the things people do to attract passing travelers had a real impact on me as it was all I could think of gazing into the dead eyes of the sculpted visage of Altie.  The Visitor Center docent offered a complimentary selfie-stick which perhaps I should have availed myself of but instead I asked her to snap the shot.  Unsteady hands and weird lighting contributed to a slightly blurry photo… but in truth, maybe that's the best way to capture Altie or any legendary creature – in half shadows or out of focus, poorly framed and hastily shot so as to capture the creature before it vanishes into the murky depths/foggy woods/ether of the imagination.
EDITOR'S NOTE: I'LL INSERT THE PAMPHLET ON ALTIE LATER
I must admit, having sat in the car driving for 10+ hours, I regretted not getting a run in before setting out on this road trip.  My legs were seriously cramped and unhappy with me but I assured them there'd be plenty of running in their future… including it turns out at the Marine Corps Marathon in the fall.  I won the lottery and have my entry confirmed.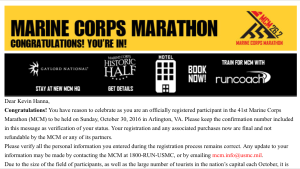 And speaking of lotteries, I'm trying to get in on the St. George Marathon lottery that is supposed to be open from today through May 11th.  As of 7:34 AM, it hasn't been made live yet.  This year marks the 40th anniversary of the St. George Marathon and so I'd really like to be there to commemorate its start in 1977.
In the meantime, before setting out to Cumberland, MD, to pick up my packet for tomorrow's marathon, I'm sitting at Rob's kitchen table.  He's one of my best friends in the world; we did the math last night and we've known each other for 32+ years.  I have one friend I've known longer up in Connecticut.  We grew up together and even though we live far apart and may not see or talk to each other as much as we should, catching up with a classic friend is like not having missed a beat in some wonderful symphony.  Floods of memories past and waves of new ones mix and all seems right with the world.
Rob's awesome and so is his wife Darla and new baby Aurora (AKA Rory).  My one regret is that I missed Beaux who is off on spring break visiting her father in NY.  Still, it was great to see these folks … and they kindly offered to put me up for the night.  A good thing too as after a delightful dinner at Char-Grill with an exceedingly well-behaved one+ year old (not sure if that's describing Rory or me), I went out to a pool hall with Rob.  There at Rack-M-Up, his multiple teams were competing in their own March Madness tournament.  One team was in first place, one was 4 points out of first, and one I think Rob was just a floating designated shooter if they needed somebody to fill in.  Rob's always been a math guy and so it's no wonder he can play the angles on a table and see shots I've only ever seen in movies… or that one episode of The Brady Bunch where Bobby became something of a shark.  But I digress…
It was great to just grab a beer and hear what's been happening with Rob and Co.  As with all of us, hiccups here and there but mostly positive, good things.  I'm so glad he and Darla are happy and continuing to do great things.  Darla is headed to my alma mater for her masters.  She doesn't want to jinx it and hasn't officially heard back yet but they'd be fools not to snap her up as a future distinguished alumna.  Rob's meanwhile wheeling and dealing and deep diving into hololens technology – befitting because there's often a time when I shoot him a computer or science question text exclaming, "Help me, Rob Van Schooneveld.  You're my only hope!"
Rob had a late game and as we shot the breeze amidst the clack of cue balls breaking, the ker-PLUNK of dropping stripes and solids around us, I was reminded of how lucky I am to know this guy.  As players finished and headed out, a table opened up and Rob and I shot a round for old times sake.  I haven't played in years and jokingly said I'm more of a southern hemisphere player; the balls here in the north latitudes turn the wrong way.
EDITOR'S NOTE – THERE'LL BE A FEW SHOTS HERE ONCE I GET HOME AND ACCESS MY CANON CAMERA
But as the night wore on and the final round of drinks wore off so there'd be zero issues with driving home, the gods of luck smiled one final time.  As I terribly misjudged and shot at the eight-ball, the white cue struck the black beast and it took a weird bounce off the side bumper, rolling toward a nine-ball hanging out near a corner pocket.  A gentle kiss of two phenolic resin spheres caused the stripped ball to react per Netownian physics; while the 8 refused to sink, the equal and opposite happened to the 9 ball and it kerplunked into the pocket.
I was having a good night all around.  And it was all because of the VanSchoonevelds of Charlotte.  Love you, guys.  Thanks for putting up with this old road dog.
***
Morning has come and after summarizing the night's activities, I'm going to try and grab one last shot with Rory and her parents.  Most of last night's images are iPhone noisy but a few turned out okay, including:
Before I headed up to Maryland, I grabbed a few more on my Canon camera in the hopes that it took a bit better quality than the iPhone.
EDITOR'S NOTE – LATE EDITION PHOTOS ADDED ON APRIL 5, 2016: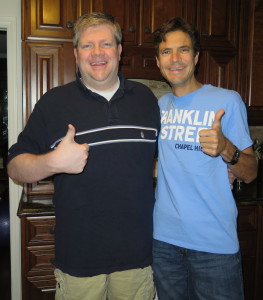 ***
7:34 PM: Final two notes for today:
I have successfully entered the lottery for St. George… they billed me $95 and if I don't get in, they'll refund $90 but keep $5 for the lottery registration.  Fingers crossed my luck holds.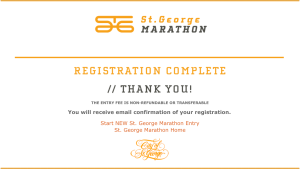 Secondly, I didn't run but I drove a heckuva long way again.  If yesterday was 10.5 hours to do 550 miles, today was closer to 7 hours for 450 miles.  Traffic was better but it still was a long, long way.  It's incredibly windy here in Cumberland, MD, and although a massive cold front is definitely coming, it's still about 70 degrees.  The forecast says that it's going to be 46 degrees at the 8 AM starting line.
And I ate way too much trying to carbo load for tomorrow's run.  Gosh, I really shouldn't have had this but so be it: