Once more unto the Dodger Stadium, dear friends. Once more… except now they don't let us wait inside Dodger Stadium anymore. I guess preventing us from sitting in the seats and trying to take selfies with the field in the background was too onerous. Instead, we just hung out at Dodger Stadium's parking lot. Which is… terribly laid out.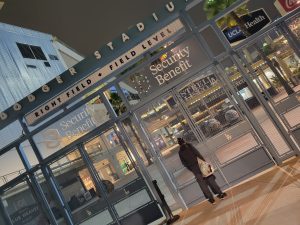 I should've known better about the layout of the event from the other day when I picked up my bib at the Stadium. For a place that should know how to get people in and out of the area at least 80 times a year for home games, well, you'd think they'd know how to mark directions for parking, exiting the parking, and navigating the area to get to the expo. Instead it was setup as far too many parking lots seem to be in our world — as if a child had snorted Pixie Stix and in a mad sugar high threw down obstacles in an effort to make it all "more fun."
On the plus side, I ran into a UNC Tar Heel alum I hadn't seen in years – so shout outs to you, Sean R!
Wait, sorry… that's creepy Sonic the Hedgehog/Balloon Artist.  THIS is Sean R: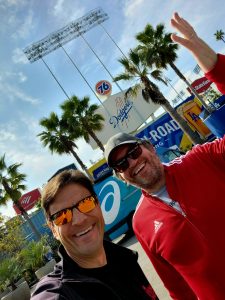 But back to the race itself. I'm just going to say it — I hate this course. It used to be pretty special, if inconvenient for parking. You ran from the Stadium to the Sea — from Dodgers Stadium out to the Santa Monica Pier. Kinda cool, kinda nifty. But apparently there was some falling out with Santa Monica — who is to blame, I cannot say… but Santa Monica is no longer on the route. So now it's Stadium to the Stars… and that means we run from Dodgers Stadium for 18 miles to the land of Hollywood Agencies on Avenue of the Stars… we run PAST the finish line (!!) and run out 4 miles or so, then turn around in Brentwood and run back the way we came… and wind up running UPHILL to finish at the crappy Avenue of the Stars mini-metropolis/mall. Oh, and we pay $33 to park in the area.

The point is, while there's a lot to like, that last 8 miles messes with my head and my enthusiasm and even though I know it's coming and I know it's gong to suck, it somehow sucks more and more energy out of me each year I do it (this is only the 2nd year I've done this course… but, man, it may be the last).
Hey — newly elected mayor Karen Bass air-horned us off!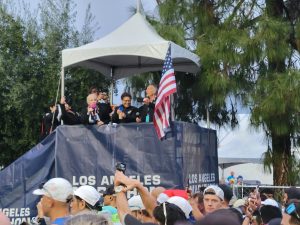 Steve and Alexis were kind enough to come down and cheer me on — huge boost to be honest.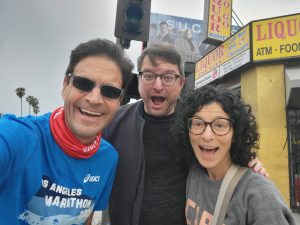 And I appreciated some of the marquees along the way got into the spirit of things… Zoom in on the Pantages and know that the second tile said, "And all that jazz!" for a Chicago ticket product placement.
I've lived a bit farther off the course in the past but I literally ran past my place this year… I regret not sticking up color paper to mark my windows with "#499!"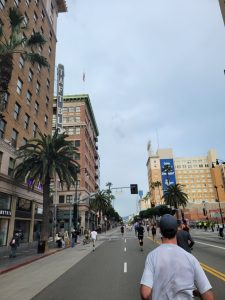 So anyway, I enjoyed the views and the course up to and including Rodeo Drive in Beverly Hills…
But then we hit Mile 18… and the finish line that wasn't my finish line yet…
And that's when you can see other mile markers on the way back and how long you have to go before you hit the turnaround and my mind and legs turned to mush.  Mush I tell you!  Mush!  And not the kind of mush that makes Iditarod dogs go faster… this was mush that made me just… slow the hell down and shrug.
But after 498 marathons prior to today, what am I trying to prove anyway?  Not a great time for me but it's in the books…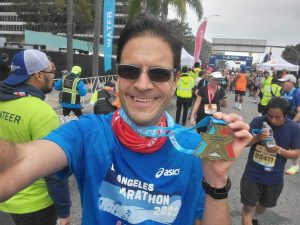 …and so what remains is Boston.