"I'm supposed to be a marathoner, not a human pretzel."
This was all I could think as I shifted  and contorted in my too-small-for-even-Quatum-Realm-Kevin window seat.  The elderly woman next to me was going back to Prague after 30-some-odd years as a Brooklyn-ite, there to see family and meet her musician son touring Europe to celebrate his birthday.  She told me Prague's metro runs like clockwork- nothing else is all that efficient but the public transport is within seconds of its posted schedule. She told me to be careful.  Not sure what that meant – seems to me it's actually easier to rely on posted schedules rather than wondering if things are running late.
We'd been severely delayed out of JFK but thanks to cushioned times we were only 20 minutes late to Prague.  Immigration proved a Kafka nightmare… apropos as Prague is home to Franz K… and I will be seeing his giant statue before my trip is done. Oh, yes.  I will be seeing several probably.
Thanks to an incredibly friendly and helpful tourist info desk, I was given a map and detailed instructions for getting out to the race expo.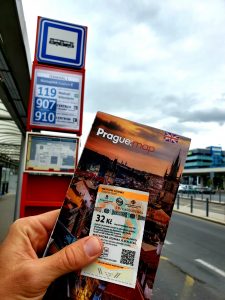 Upon first arrival, I was thrilled to be getting there just as the Dog Walk event was finishing.  Humans accompanied their canines sporting pooch bibs.  Some dogs were more competitive than others.  There were a lot of smells in Prague it seemed to me.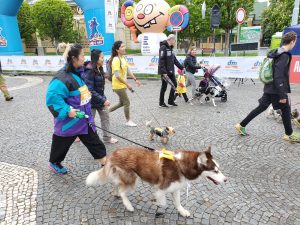 As for the expo itself… well… it was drizzling and wet dogs ran wild through the pavilions… as did rambunctious kids and their hapless parents pushing Mad Max style mega-prams in anticipation of that afternoon's family fun walk.  On top of that, there were a heap of us trying to pick up bibs for the race tomorrow… and somebody clearly bribed the fire marshal as in an effort to control crowd flow, everybody was funneled in and out of a tiny bottleneck.  Sure there were other doors in and out, but they were chained shut, leaving a swirling whirlpool of humanity and dogs entering and exiting in what can only be described as a clusterbomb of poor manners.
I waded through, using my overstuffed carry-on as a battering ram to part the masses and get in and out. But gods was I done with people by the time I finally left an hour and a half after getting there.
My Airbnb proves the old adage that you get what you pay for.  It's not a murder hotel but it's probably best described as a flop house for people aspiring to be pigs someday.  Sigh.
I'm grabbing a pizza.  I was tempted by some Czech cuisine – goulash and dumplings and heavy bohemian foods.  But i figure I'm struggling with enough curveballs on my race that I probably shouldn't add an adventurous dinner the night before.  I don't want to write Czechs my body couldn't cash.  ZING!
The rain and wind are a bit… wetter and brisker than I had planned. And there seem to be a lot more hills and cobblestones than I had imagined for the course.  Wet cobblestones are particularly grueling on my running gait as I gingerly try and avoid a toe catcher corner and therefore hope not to face plant.  But on the best of health that's tough on my legs… given my ongoing struggles it is downright demoralizing. Hopefully things will dry out tonight.  I haven't checked the forecast.  I can't change the weather so whatever comes tomorrow will be what I deal with.
And given the race doesn't start until 9 am, I might even be able to get a decent night's sleep.  Maybe the Airbnb will seem better in the dark … harder to see the filth that way.
Bright side in the dark side!