<< Comm-Sat Connection Restored >>
<<ETA to full communication signals: 127 hours, 43 minutes >>
Meh.  Not my thing.  The multi-day hiking.  The multi-night camping.  The no showering.  The bush toilets.  The sleeping bags and drafty huts.  The plummeting temperatures and freezing sleet whipped in your face at 90 km/hr.  The lack of Diet Coke and resultant withdrawal symptoms contributing at least half as much as altitude to my altitude sickness.
Met some nice folks though.  There were 13 of us in total via Marie Frances and we'll be doing various distances at the Marathon on Sunday.
Of the 13, four of us made it to the first peak, Gilman's Point (*), and one of those made it to Uhuru, the true summit.  The others all turned back due to altitude sickness (including hallucinations), extreme cold, loose screed that made the ascent (and eventual descent) a rocky skiing challenge, a possible heart attack, and a few other reasons that will remain unmentioned here.
(*) I'm the asterisk.  Through a simple twist of fate, and an ugly American whinging, I was given my own faster pace ascent with a guide as the shuffling stride was killing my knee and ankle trying to go that slow.  Another participant, Ryan, joined in on the faster pace.  Had I stayed with the slow shuffle group, I would have been turned back with others due to altitude sickness around 16,500 feet.  As I was a member of a two-person team, the guide tried to signal the need for another guide to come get me so he could carry on with Ryan but in the meantime we just kept going higher.  Ryan and my guide Richard were incredibly supportive of my imbalance and inability to keep it together… and because of the need to keep moving rather than wait along the trail and face frostbite, I was able to hit the first peak.  Richard was going to get Ryan paired with another group but Ryan was freezing and with the snow and white out conditions and the wind, it all dissuaded him from the three hour round trip trek to Uhuru.
So our completion percentage to Uhuru was 7.7% thanks to Ed killing the climb; our completion percentage to Gilman's was 30.76% (with an asterisk).  And we had to have four people sent to the hospital/hotel early by taxi.  With family and traveling companions exiting to support, that cut our fellowship after the "climb" to 7.  So our attrition rate was 46.15%.
***
Upon arrival in Tanzania I found out everyone else had gotten a detailed climb packing list except me.  This is why I wound up renting $100-plus in gear and cherry picking items to skimp and save as I needed cash for tips at the end of the climb for the 33-person support crew (guides, cooks, porters) for all of us.
I was woefully ill prepared for the climb itself and for the acclimatizing three days hike to base camp… and then the two days hike back to the starting gate to go back to our hotel.  Even with a 30-minute detour to a DC Goodwill, I wasn't prepared.  Who woulda thunk it?
I had regrets before the climb.  I had regrets during the climb.  And I have regrets after the climb for reasons I choose not to chronicle.
There is however a sense of humanity and community I should comment upon.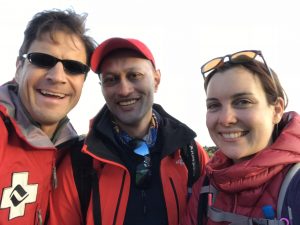 This is Alice and Abdul from Dubai.  I met them at Horombo Hut as they were coming down and I was heading up to do the climb from Kibo Hut.  They gave me some invaluable advice and, in the kindness of strangers category, she gave me her walking sticks as I didn't have any.  I offered to pay her for them but she said she never saw herself doing anything like this again (I hear ya, Alice!  Even more now!).  I did promise to pay it forward… and I did as when I came down from the climb I passed the walking sticks onto a father and son who were headed up the next day.
And I will also point to the camaraderie of the 13-member marathon/climbing group.  People shared snacks, batteries, layers of clothes… and primarily with me who was like a Charles Dickens street urchin in need of help.  But they also shared amongst other people too.  There's an inherent espirit du corps to this type of adventure travel.
I'm going to post one of only two photos I took on the actual final climb to close this out as honestly that's better than me going on and on… and on and on… and on and well, ya know… about what a mess I was before, during, and after the climb.  I will try and post more photos of the hike and experience when I have a better internet connection.  But for now I need a shower.
So without further ado: me and Richard at Gilman's Peak.  It's a summit photo, just not THE summit photo at Uhuru that I would've liked.